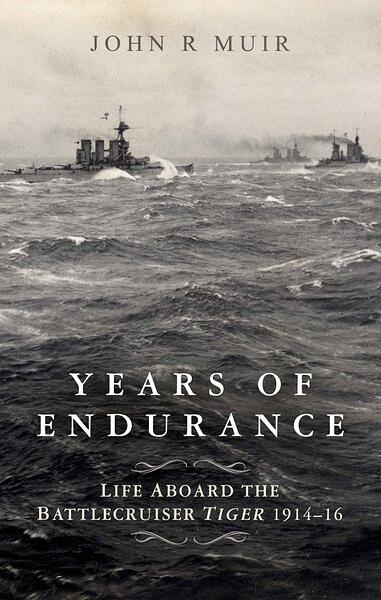 Looking for a good read? Here is a recommendation. I have an unusual approach to reviewing books. I review books I feel merit a review. Each review is an opportunity to recommend a book. If I do not think a book is worth reading, I find another book to review. You do not have to agree with everything every author has written (I do not), but the fiction I review is entertaining (and often thought-provoking) and the non-fiction contain ideas worth reading.
Book Review
Life Aboard a North Sea Battlecruiser
Reviewed by Mark Lardas
February 13, 2022
"Years of Endurance: Life Aboard the Battlecruiser Tiger 1914-16," by John R. Muir, Naval Institute Press, 2021, 312 pages, $34.95 (hardcover)
At the beginning of World War I, John R. Muir was a surgeon in the Royal Navy. He was also an avid yachtsman.
"Years of Endurance: Life Aboard the Battlecruiser Tiger 1914-16," by John R. Muir were his memoirs of his service during World War I. It offers a fascinating look at the life of a Royal Navy surgeon of the period, both ashore and afloat.
The book opens prior to World War I in May 1914. Muir was Senior Medical Officer at Chatham Barracks, responsible for conducting the physicals of men entering the service during mobilization. A preliminary mobilization had been bungled. Muir shows how the lessons learned were incorporated into the actual mobilization a few months later. He recounts his early months of the war ashore before being assigned to the battlecruiser Tiger .
The heart of the book is Muir's description of his service aboard Tiger . He joined prior to its 1914 commissioning and remained with it past the Battle of Jutland in 1916. He describes life aboard the ship and its service during the Battles of Dogger Bank and Jutland.
One of the most entertaining portions of the book precedes his sea service. Early describes the process of converting a hotel to a hospital in the opening months of the war. It is remarkably amusing to read about a surgeon thrust into the role of a general contractor. He did a good job at it. His reward was an assignment to Tiger , a posting he cherished.
He wrote the book for those unfamiliar with the sea. He introduces those readers to the peculiarities of the North Sea in which his World War I was fought. He explains all aspects of how a battlecruiser works using words an average person can understand. He offers lucid and vivid descriptions of both life and battle aboard a battlecruiser.
This is a book from a different era. Muir was one of the competent upper-middle class professionals who rose on their merits and skills. This is the group who built the British Empire. He manifests the reserve that class possessed in this book. He never mentions real names. He is fiercely loyal to his ship and his shipmates. He believes doing your best is the standard to attempt.
"Years of Endurance" originally appeared in 1936. Years out of print, it is a reminder of a time when Britain truly did rule the waves.
Mark Lardas, an engineer, freelance writer, historian, and model-maker, lives in League City. His website is marklardas.com .