I've been seeing online analyses of US Centers for Disease Control (CDC) mortality data, trying to find signals of health problems relating to vaccines, and decided to take a look for myself. The data can be found here: CDC Dashboard. I fetched data for the 25-44, 45-64, and 65-74 age groups, by week, from 2015 onward. To avoid the from/with COVID problem, I'm looking only at all deaths. To avoid reporting lags, the present analysis terminates on 1 January 2022. The baseline period is 2015-2019, inclusive, and excess deaths for the 65-74 age group had a significant secular trend removed.
Figure 1 shows expected deaths by week, determined by averaging across the 2015-19 time frame. Deaths notoriously have a seasonal cycle, higher in winter, lower in summer, but that's for all age groups. This seasonal cycle is very nearly absent from the 25-44 age group. The average number of weekly deaths in the 2015-2019 time frame in this age group was 2627 with a standard deviation of 57. The seasonal cycle appears in the 45+ age cohorts. An interesting and accidental result is the number of deaths in the 45-64 and 65-74 age ranges (means 10348 v. 10136) are comparable over the baseline period (2015-19), though the latter has more variability (standard deviations 402 v. 502) owing to a more pronounced seasonal cycle.
Figure 2 shows excess deaths (XD = total-expected) for the three age groups by week for 2019 through the end of 2021. The 65-74 age group was adjusted for an upward secular trend derived from the 2015-19 time period. That cohort is getting larger and/or sicker; both may be true. In any event, after adjustment 2019 and early 2020 were close to normal for all three age groups.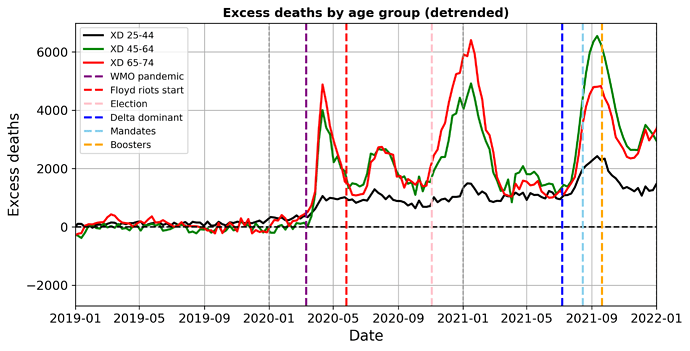 Then COVID hits. WMO declares a pandemic on 11 March 2020 (purple line). XDs in none of the groups return to anywhere near the baseline. The 25-44 cohort experiences a so far permanent step up in April 2020. Some of this increase in all-cause deaths is due to suicide, depression, and alcohol and drug abuse. The particularly elevated numbers of 2021 for this group started in late July and returned to their new normal by late October.
Most striking is that XD 45-64 caught up to and surpassed XD 65-74 by sizable numbers in that same time period. This might reflect the threat and implementation of vaccine mandates (green line). United Airlines issued its vaccine mandate in August 2021 [A] and Biden announced his mandate threats on 9 September [B]. Boosters (orange line) became available on 20 September for healthcare workers and older persons [C].
The next plot presents the weekly difference in excess deaths between the 65-74 and 45-64 year old groups. Based on pre-pandemic variability, I will interpret values in the +/-500 range as near-normal for whatever normal is in that time period. Now the baseline is relative: positive values mean more 65-74 year olds dying compared to those aged 45-64, even though deaths in both groups are elevated during the pandemic, as seen in Fig. 2.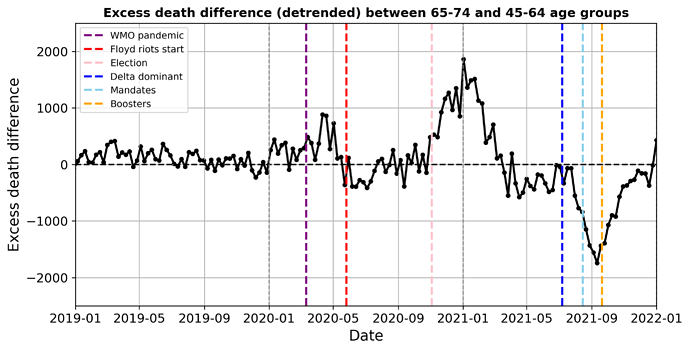 COVID formally emerges in March-April 2020, hitting both cohorts but the older one harder, leading to the positive XD differences. A return towards the relative (not pre-pandemic) baseline followed, during which deaths in the younger group were a bit higher for a period. Some of this may be due to pull-forward deaths in the older cohort. Still, note the Floyd riots, which started on 26 May 2020 (Marxist red line), may have accelerated cases and deaths among younger Biden voters. However, we are reliably informed that, though not alive, the SARS-CoV-2 virus was sufficiently 'woke' as to eschew infecting the politically correct in densely packed settings. Thus, this may be coincidence or noise.
There is a return to the relative baseline in summer 2020 (although excess deaths for both groups are far above normal) until Election Day (pink for pinko). The subsequent big spike in relative excess deaths in the 65-74 group peaked in early January 2021. Vaccines only started becoming available a few weeks prior to the peak [C] so that does not explain this. Perhaps part of this could be due to deferred or cancelled medical procedures and cancer screenings that would impact the 65+ age group much harder than the younger group finally becoming significant.
Then, following a return towards the relative baseline, there is just as large of a reverse spike – more 45-64 year old excess deaths than among 65-74 year olds – starting March-May 2021 and peaking 11 September 2021. Perhaps some of the 65-74 deaths that were pulled forward into January 2021 would have occurred in that time window, leaving fewer older people to die. But the surge follows Delta becoming dominant (blue) and the announcement of vaccine mandates (green). Some of this huge swing is likely vaccine injury, extending as it does into the 25-44 age group.
To conclusions yet. In any case, we are a long way from returning to the old normal as far as expected deaths are concerned. If COVID remains relatively dormant, but excess deaths remain high, some explaining has to be done.
[A] United Airlines ends vaccine mandate for staff after firing hundreds of employees - NewsBreak
[B] COVID-19 vaccination in the United States - Wikipedia
[C] U.S. to begin offering COVID-19 vaccine booster shots in September | Reuters