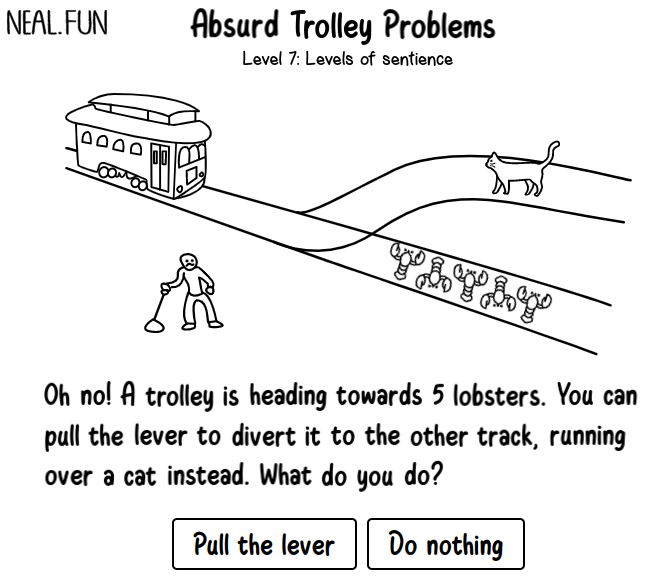 The Trolley Problem is a thought experiment in psychology and ethics in which a person is asked to make a choice whether to intervene to save the lives of multiple people when acting will cause the loss of one life which would be spared by not acting. It is formally stated as:
There is a runaway trolley barreling down the railway tracks. Ahead, on the tracks, there are five people tied up and unable to move. The trolley is headed straight for them. You are standing some distance off in the train yard, next to a lever. If you pull this lever, the trolley will switch to a different set of tracks. However, you notice that there is one person on the side track. You have two (and only two) options:

Do nothing, in which case the trolley will kill the five people on the main track.
Pull the lever, diverting the trolley onto the side track where it will kill one person.

Which is the more ethical option? Or, more simply: What is the right thing to do?
The dilemma confronts the utilitarian view that acting to preserve the largest number of human lives with the knowledge that to act directly causes the death of one person. It can be used to illustrate philosophical viewpoints such as eternalism (a "block universe" as modeled by general relativity where the past and future are equally fixed), the many worlds interpretation of quantum mechanics, where all possible outcomes occur, and the presence of free will or its being an illusion.
Many variants of the trolley problem have been created to test individuals' decision making and value judgements. Many of these, along with a variety of humourous situations, have been collected at the Neal.fun Web page, "Absurd Trolley Problems", where you are confronted with a series of dilemmas and, for each, compare your decision with that of the millions of people who have visited the page. At the end of the series, your body count is shown.