In an article at the Foundation for Economic Education Web site, "US Would Have Highest Top Income Tax Rate Among Developed Nations Under Biden Plan, New Analysis Warns", Brad Polumbo writes that the Tax Foundation has calculated that if all of the proposed tax hikes in Biden's "Build Back Better" scheme are enacted, and accounting for federal, state, and local taxes, the average top marginal tax rate in the U.S. would jump from 42.9%, just above the OECD average of 42.6% and comparable to Switzerland (41.7%), Spain (43.5%), and the U.K. (45.0%), to 57.4%, which would be the highest in the 38-country OECD, topping current #1 Japan at 55.9%.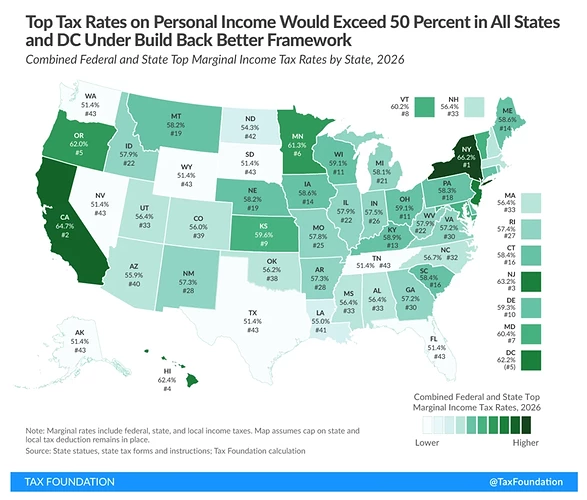 State and local taxes vary substantially in the U.S., so top marginal rates would range from 66.2% in New York and 64.7% in California to 51.4% in the eight states tied for lowest (Alaska, Texas, Florida, Washington, Nevada, Wyoming, South Dakota, and Tennessee).
This does not include sales, property, and other taxes which also vary widely among jurisdictions and raise the tax man's take of earnings further. Bear in mind the observation of L. Neil Smith in Lever Action:
The fact is, each of us pays half his income to one government or another, cutting his real wealth in half. Those we purchase goods and services from also pay half to government, except that they don't really pay—we do, through prices twice as high as they should be. Which cuts real wealth in half again, to a quarter of what it would be if everyone kept what they earn. It also costs to comply with idiot regulations. Dixy Lee Ray, in Environmental Overkill, estimated that it amounts of another halving, meaning that the government sucks off seven-eighths; we're left to survive on one eighth of our productive capacity.

Let me say that again, so there'll be no mistaking it; Government consumes seven-eighths of everything we make or do; we're left to survive on one-eighth of our productive capacity.