(If the above link won't show you the full text because you've "reached your limit", open it in a private/incognito window and Bob's your uncle.)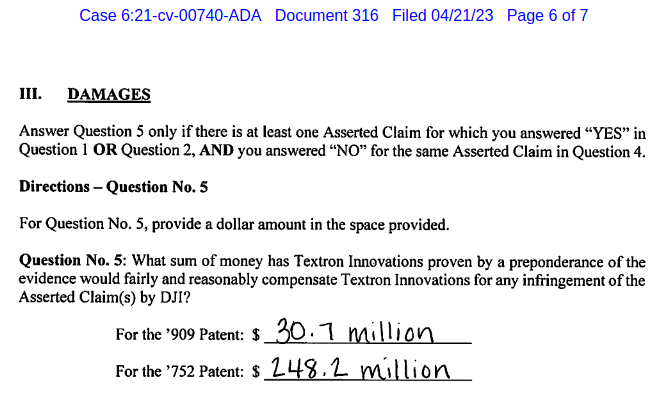 Techdirt notes regarding the West Texas U.S. District Court in Waco, Texas and the presiding judge in this case, former patent litigator Alan Albright (appointed to the bench by Donald Trump in 2018) have a reputation for being the "go to" venue for patent trolls.
For years, you may recall that we would write about the insane nature of forum shopping for patent trolls, in which the trolls would flock to the federal courts in East Texas. Going back nearly 15 years, we wrote about how East Texas courts became grand central for patent troll cases, leading to all sorts of sketchy behavior. There are a bunch of empty office buildings setup in small Texas cities (mainly Marshall and Tyler) just to "pretend" to have offices there. Companies engaged in many patent cases started to try to suck up to residents of those small cities, in case they might be on a jury. TiVo literally bought a "Grand Champion Steer" just weeks before a jury was set to rule on a massive TiVo trolling case. Samsung threw so much money at the local "Stagecoach Days" event that it was renamed "Samsung Stagecoach Days," and built a Samsung ice rink right next to the courthouse in Marshall.

For years, people pressured Congress to fix this mess, but instead, the Supreme Court finally stepped in, with the TC Heartland ruling, and said that the proper jurisdiction should be where defendants actually are incorporated. Of course, this seemed to have the reverse effect — as companies no longer want to be in East Texas. Apple shut down its stores there to avoid the jurisdiction.

⋮

However, as Patent Progress notes, there's a new judge vying to be at the top of the patent troll's Christmas list, and he's in West Texas. Judge Alan Albright, a former patent litigator, was appointed to the bench in 2018 — and he literally went on a tour to convince companies to bring patent cases in his court:

U.S. District Judge Alan Albright and attorneys who predicted last year that Waco's federal court would become a hotbed of patent and intellectual property litigation missed their prediction just a bit.

With Albright traveling the country drumming up business and patent attorneys spreading the word that Waco's new federal judge, a longtime patent litigator, will provide the expertise to create an efficient and welcoming environment in Waco, the response in the past year actually exceeded those predictions.

Since Albright took office in September 2018, more than 250 patent cases have been filed in the federal Western District of Texas, which includes Waco. That total eclipses the number for the previous four years combined and has made the Western District among the busiest in the country for patent cases.
The University of California Berkeley law school offers a continuing legal education course on "10 Things to Know Before You Go to Trial in Waco".
Despite all of the recent press, the Western District of Texas is a relatively recent entrant into the world of high-volume patent litigation. And through all that press, it is easy to forget that Judge Albright and Waco are seeing their first series of patent trials. Don't be fooled–you Eastern District experience does not matter.

What do trial attorneys need to know? And what should in-house counsel be asking about as trial approaches? And maybe the most important question of all, what should in-house counsel be thinking about earlier in their cases in order to get ready for trial if it does occur.
A spokesman for DJI said, "Textron is a military helicopter company. DJI is a civilian drone company. No commonality exists between the technologies."
This judgement is sure to be appealed. Textron, a major defence contractor, will likely make much of DJI's being banned from investment by U.S. persons by the U.S. Department of Defense for "supporting the Chinese military-industrial complex, as well as military, intelligence, and security research and development programs".