I particularly appreciate the insight that this works almost as well with flash-frozen vegetables as fresh ones from the farmers' market. (Have you seen how much debris you have to dispose after preparing a a half kilo of fresh Brussels sprouts for cooking?)
Also, he notes that an air-cooker, like my old reliable Actifry, does a fine job of browning the vegetables through the Maillard reaction and with only a small drizzle of oil on the vegetables. This avoids heating up an entire oven, spreading out veggies on oiled baking trays, and all of the cleaning up that implies.
Here is my in-development bacon and cauliflower recipe along these lines.
Place bacon, cut up in pieces, in Actifry pan with stirrer. Cook for 10 minutes (verify). Add frozen cauliflower. Cook for another 5 minutes (verify). When serving, sprinkle with lemon juice.

Update: tried as above, but with 10 minutes for the cauliflower, and it was OK, but both the bacon and cauliflower were a bit overcooked. Next time, I'll try 8 and 8 minutes and drizzle a little oil over the cauliflower when adding it to the bacon. I used 5 slices of bacon and around 200 g of cauliflower, which seems about right.

Update: tried it again, cutting up 5 strips of bacon into small bits and separating them, then placing the cauliflower in the pan with the stirrer, drizzling oil over them, and cooking for 10 minutes. The cauliflower was severely freeze-dried from a year in the freezer; I don't know the extent this contributed to the result. The cauliflower was over-cooked: carmelised in some places. Clearly, the bacon needs to go longer, and 10 minutes seems a lower bound. The next time I'll try cooking the bacon alone for 5 minutes and then throwing in the frozen cauliflower. This is a matter of convergence and may take a few more iterations, but it's sufficiently tasty I'm willing to pursue it (and the outcomes which are sub-optimal are still perfectly acceptable).
This is how recipe development looks under the bonnet. Any of these were far tastier than just nuking the frozen cauliflower out of the bag.
How does this work for you? Can you improve on it? (This recipe works for almost all cultivars of Brassica: try it with broccoli, Brussels' sprouts, cabbage, or Romanesco.)
Of course they are! They contain bacon.

I don't know which kind of bacon you use, or remember the varieties available at Migros or Coop. I do remember that the bacon I buy when I am there is very thin and delicious. I find I get all the taste and eating satisfaction I get with that quantity as with, guessing, about 4 times the weight of US-style "thin" bacon. The type I get (Terraswiss, I think) is so perfectly and thinly sliced that it is as remarkable as it is tasty.
Actually, while I used regular bacon that I chopped up for these experiments, what I usually buy, being a stalwart believer in division of labour, is bacon already chopped up into bits, sold as "lardons" by Migros and Coop. These can just be thrown in as-is without the messy chopping phase where the fat parts tend to cling and tear.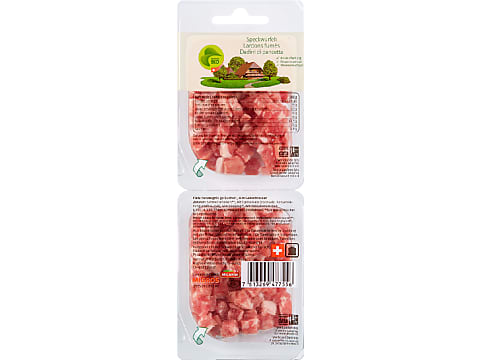 Great tips in the video. I didn't know about parboiling, but I have found that spacing the vegetables is very important while roasting/broiling.
I'm looking forward to this one since I have had success with your previous recipes. I appreciate the Fourmifood philosophy of "jettisoning the complexity and mess" while still producing a tasty dish.
If you are stateside, I strongly recommend Nueske's. I don't think I have tasted more delicious bacon in my life (although I have not yet had the opportunity to try Terraswiss).
I made Brussels' sprouts with bacon yesterday applying these tips and a suggestion by a family member to toss the Brussels' sprouts with a little bit of maple syrup in addition to the oil. The syrup balances the bitter taste of the sprouts as well as caramelizes over the exterior to create a glaze. It tasted quite good but a little bit of syrup goes a long way. I used one and a half tablespoons of maple syrup for two pounds of Brussels' sprouts and this seemed to be a good ratio, giving the sprouts a subtle sweetness. I imagine this would work with cauliflower too, but I haven't tried it yet.