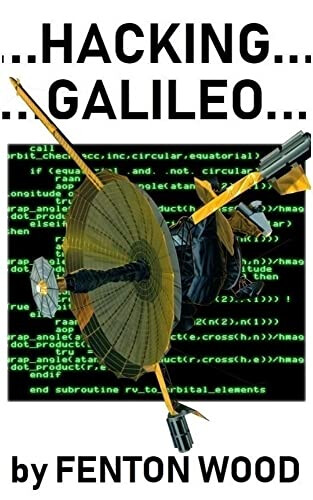 Fenton Wood, author of the Yankee Republic novels (Pirates of the Electromagnetic Waves and sequels, now collected into the Yankee Republic Omnibus) and Nightland Racer, has just published his latest young adult (ages 8–adult) novel, Hacking Galileo, with the Kindle edition released on 2023-05-01 and print editions to follow.
This story, set in an alternative 1980s that resembles those days of yore in our timeline, but differs in details, is a classic tale of a band of enterprising youth who delve beneath the surface of the technology of their time, stick it to the Man where that is amply justified, have a tremendous amount of good, clean fun and, oh yes, save their planet from an apocalyptic fate by innovation, subversion, and a bit of impromptu international diplomacy. While the story is the kind of adventure of the dreams of techno-nerds, the story is the hardest of "hard science fiction", where the author goes to great pains to get the details right, including obscure aspects of technology and history you may think were made up until you research them for yourself. It's hard science fiction, but not hard to read—the story is engaging, the characters are interesting, appealing, and may share attributes with the audience, and grow in realistic ways as the story plays out over the years.
The yarn is reminiscent of Bertrand R. Brinley's The Mad Scientists' Club stories from the 1960s, but the characters are more mature and believable, the science is more advanced and plausible, and the ultimate stakes are immensely greater. I was also reminded of John T. Frye's classic "Carl and Jerry" stories which ran between 1954 and 1964 in Popular Electronics and inspired some of my own adventures in electronics back in the day.
While the novel is termed "young adult" and is completely accessible to and appropriate for young readers, adults who are anything but young, like myself, will find it never speaks down to the reader and, as with Robert A. Heinlein's "juvenile" novels, the more you know about technology and the way the world works, the more you'll enjoy the tale and appreciate the author's achievement in getting things right.
I was a volunteer beta reader for this book and had the opportunity to read it in manuscript form before publication. I greatly appreciate the chance to get an early look at the work and see it evolve into the final form published today, and recommend it without qualification.