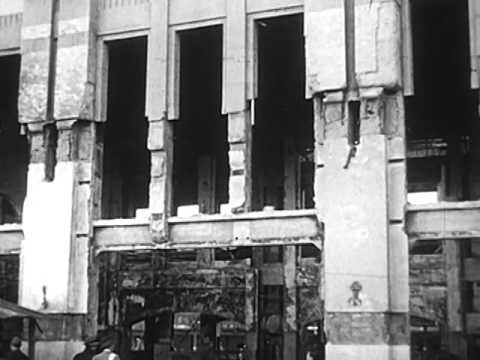 Shortly after the surrender of Japan in 1945 and the arrival of U.S. occupation forces in the country, the Manhattan Project sent a team to Japan to visit Hiroshima and Nagasaki, the targets of the atomic bomb attacks, and survey weapon effects and damage. The Atom Strikes! (exclamation point in the original title) is a 30 minute film commissioned by the U.S. Army Signal Corps which reports on the survey, with detailed depictions of damage to different kinds of structures at various distances from ground zero.
The effects of radiation on the population are dismissed relatively lightly. Whether this is due to lack of knowledge at the time, belief that an airburst would minimise radiation damage and fallout, or for propaganda purposes I do not know.
There is not a shred of remorse or second thoughts about use of the weapons. The general tone is triumphalist. The last words of the narration, spoken over film of the Trinity test explosion, are:
This is the record. Endless man-hours of work, two B-29s, two atomic bombs three days apart, two cities: a tabulation of that record speaks for itself.
This is the 77th anniversary of the atomic bombing of Nagasaki.