Architecture, both high and low, is art available to all. One often comes upon it unexpectedly and delightfully. Unlike most other art, it is functional. When it's good, it is wonderful; when bad, it can be horrible. In the spirit of uplift and optimism, I only include the former in this post of sometimes random, sometimes deliberate, encounters over the last few years.
The serendipitous finds are the most fun. This building in Boston's Back Bay is stuck among some nondescript, not to say offensive, buildings on the main thoroughfare through the neighborhood: a jewel.

This whimsical structure is not far from home. Built in 1925 of locally quarried stone, it was meant to be the guard tower for a newly built neighborhood. Hardly high art, nevertheless it was a delight to come upon this oddity while cycling the hills. The house's mailbox is a miniature version of the larger structure.

Beautiful buildings aren't always grand. This courtyard at the Mission San Luis Rey in Oceanside is delightful for its simplicity and peaceful ambiance. It's not hard to imagine spending an afternoon here reading or lost in thought.

The San Ramon chapel is a plain wooden structure in Santa Barbara's wine country. It's simplicity appeals to me and maybe also it's association with tasty wine.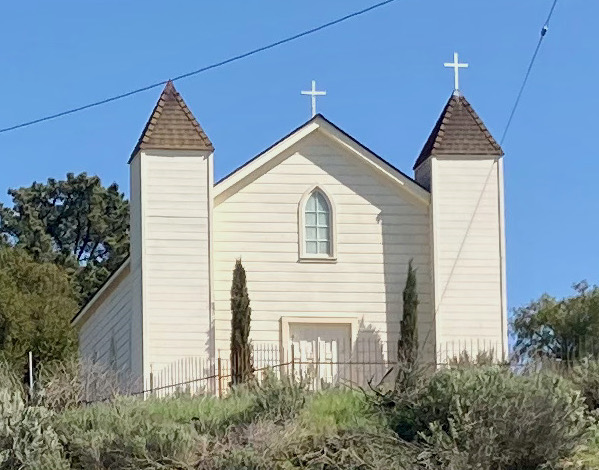 Enough with these random finds; on to the renowned monuments. A couple of blocks up the street from the building in the first photo, also in the Back Bay, stands Trinity Church: a truly magnificent Romanesque structure. The interior is considerably more ornate than one might imagine from the exterior.

Colonnades at the Getty Villa bound the serene peristyle garden. The trompe l'oeil on the walls add a sense of fun.

The Villa also has this little fountain off to the side. While not monumental in scale, small can be beautiful too.

Can we agree that Goethe was right: architecture is frozen (or petrified) music?