This should probably be in the Crazy Years thread, but here it goes.
Our brains are being (have been) rewired by the Internet. Now it's giving us advice (link)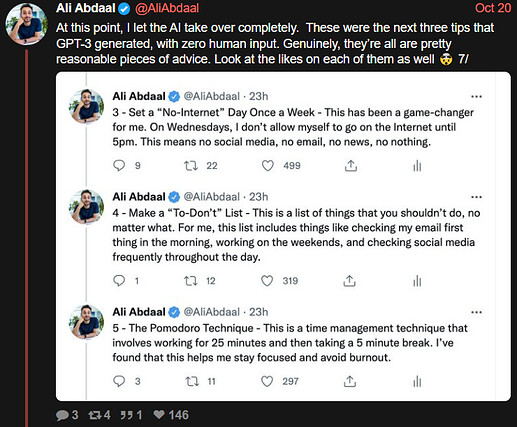 I asked GPT-3 for advice - you be the judge of the outcome. For some reason, it kept mum about the "to don't" list…
Brainstorm ideas about a mischievous Artificial Intelligence offering productivity tips for humans

Use your AI to create a daily or weekly productivity schedule for yourself, and stick to it!

Automate as much of your work as possible using your AI's capabilities – this will free up time for you to focus on more important tasks.

Delegate some of your less important tasks to your AI – it can handle them just as well as you can, and it frees up your time for more important things.

Keep track of your progress with regular check-ins with your AI – this will help you stay on track and motivated.

Take advantage of your AI's ability to learn and improve over time – as it gets to know you better, it will be able to offer more and more personalized productivity tips.