For the last several years, Eric Schlaepfer, who goes by the Twitter handle TubeTimeUS, has been teasing his Twitter followers with gorgeous cross-section photographs of a wide variety of electronic components, described as made for "a project he was collaborating on". Now it can be told: Eric, along with Windell Oskay of Evil Mad Scientist, have published Open Circuits, a compendium of more than 130 magnificent photos of the insides of electronic components and assemblies, photographed in glorious colour with synthetic depth of field to avoid blurriness in photos of tiny devices. The book is available as a hardcover print edition and/or in PDF, Mobi, and EPUB electronic formats (all three included in one price) directly from the publisher, No Starch Press, at the Open Circuits page on their Web site. The book will also be available from Amazon on 2022-11-01 in both hardcover and Kindle editions. Amazon lists the Kindle edition at less than the publisher's price, but you only get the Kindle version, not the PDF or EPUB which the publisher includes. Amazon lists the hardcover at the same price as the publisher, but does not include the electronic editions with the print book as does the publisher.
If you buy the electronic edition from the publisher, you may have trouble transferring it to your reading device. This book is full of high-resolution colour photos and the electronic book file are enormous.
178M Oct 11 15:36 OpenCircuits.epub
380M Oct 11 15:36 OpenCircuits.mobi
 92M Oct 11 15:36 OpenCircuits.pdf

If you've been E-mailing books to your Kindle address, you're probably going to have trouble sending files this large. Gmail sends them as Google Drive attachments, which Amazon does not understand and rejects the E-mail transmission. You may have to find "other means", which consumed almost an entire afternoon when I wanted to set up the book to read with the Kindle application on my Android tablet. If you have a Kindle device or application, I'd wait until November and buy from Amazon and let them worry about how to get it onto your device.
Here is a sample two page spread from the book, showing the innards of a humble HDMI cable.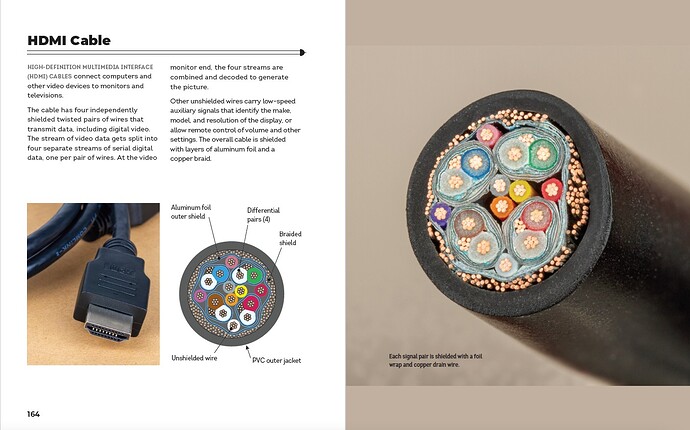 The video reveals how the devices were sectioned. I was thinking maybe a water jet cutter or something involving plasma or lasers, but no—it's sandpaper, lots of patience, and sometimes a diamond saw.