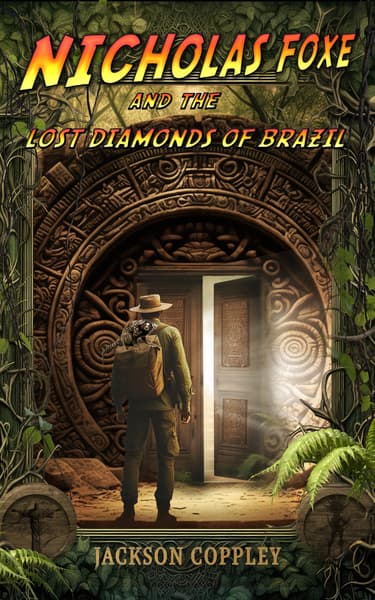 Jackson Coppley, author of the Nicholas Foxe thrillers which began with 2019's The Code Hunters and followed Foxe's adventures in sequels including The Ocean Raiders, The Fire Starters, and The Air Riders, is back with a shorter "prequel", Nicholas Foxe and the Lost Diamonds of Brazil, which introduces us to the young Nicholas Foxe as he discovers that his arcane talent for cryptanalysis has a way of leading him into perilous (but potentially lucrative) adventures in exotic locales. Here is the author's description:
Pondering the next chapter of his life after completing an ivy league education, Nicholas Foxe is at a crossroads. What lies ahead in his future? Nick decides to fly to Rio during Carnival season for a well-deserved vacation, unaware that a dangerous expedition awaits him. Sinister figures seek a trove of diamonds in the depths of the Brazilian rainforests. They need Nick's exceptional code-cracking talent and recruit him in their search. Nick finds himself in a dangerous web of peril. Does this quest hold the promise of a fortune in diamonds? His life may be in imminent danger. What choices does he have?
Unlike the earlier books in the series, which are sold as print and Kindle editions through Amazon, Coppley is making this prequel available as a free download for anybody who's willing to submit their E-mail address to subscribe to his newsletter. You can unsubscribe at any time. He's betting that this taste of Nicholas Foxe adventure will whet readers' appetite for the subsequent volumes.
I was a beta reader for this book. This may be the only work of fiction in which a marmoset-cryptanalyst plays key part in the plot. It's a rollicking adventure in which the characters are fascinating to get to know.