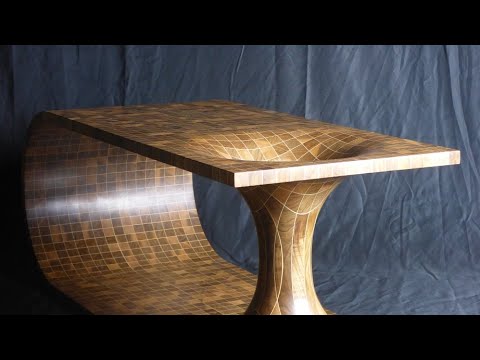 The infinity mirror with LED illumination in the throat of the wormhole is a particularly nice touch.
Lost my bearings at several points during the construction, but… what a piece of beauty! Thank you.
The guy is a helluva Engineer , as well as an artisan . Bravo.
This is really an inspiring creation! I can only imagine the planning which went into each step not to mention creating all the jigs. How he was able to do the freehand curves on the lathe is astonishing. Before he mentioned the move into a larger shop, I was already wondering how he could make this in such a small space. As someone who is lucky to make one straight (un-burned) cross cut on a table saw, i, too, am envious.
One thing .
Wood moves with moisture and seasonal changes . Lot's of wood , lot's of movement . His wonderful creation will most likely turn into a tile floor surface wise and may work itself apart in parts.
This is why large wood area's like a table top are veneer on a stable substrate with minimal hardwood edging.
Even a veneered top with inlays of various veneers like decorative banding will not stay perfectly level . Perfectly flat when finished. After a season, you may not be able to see an elevation change but you can feel it.
Those wood blocks have mischief lurking in them.