I have written here earlier about OpenAI's DALL-E 2, "OpenAI's DALL-E 2 Text to Image Synthesis Astonishes Experimenters". Those who have obtained early access to the program (I, as most, remain on the waiting list) continue to report stunning results from the text prompt to image synthesis and modification program. For example:
While we wait to try the monster DALL-E 2 model, Boris Dayma and Pedro Cuenca have created an open source clone, DALL·E mini, posted the complete source code on GitHub, and set up a live playground at Hugging Face where you can run it from your browser, "Official DALL·E Mini Demo". (Experimenting with the demo requires some patience, as Hugging Face imposes concurrency limits on access to their servers and you may have to try several times or wait until they're less busy to avoid getting a "Busy: try later" message. Here are instructions and resources for setting up your own local server.)
This is sample output from DALL·E mini.
While it lacks the staggeringly large training set of DALL-E 2, the results are still impressive and improving as the developers train it on more images from the Internet.
Here is what I got when I prompted DALL·E mini with "alien message in human DNA", going for an illustration for my story "We'll Return, After This Message".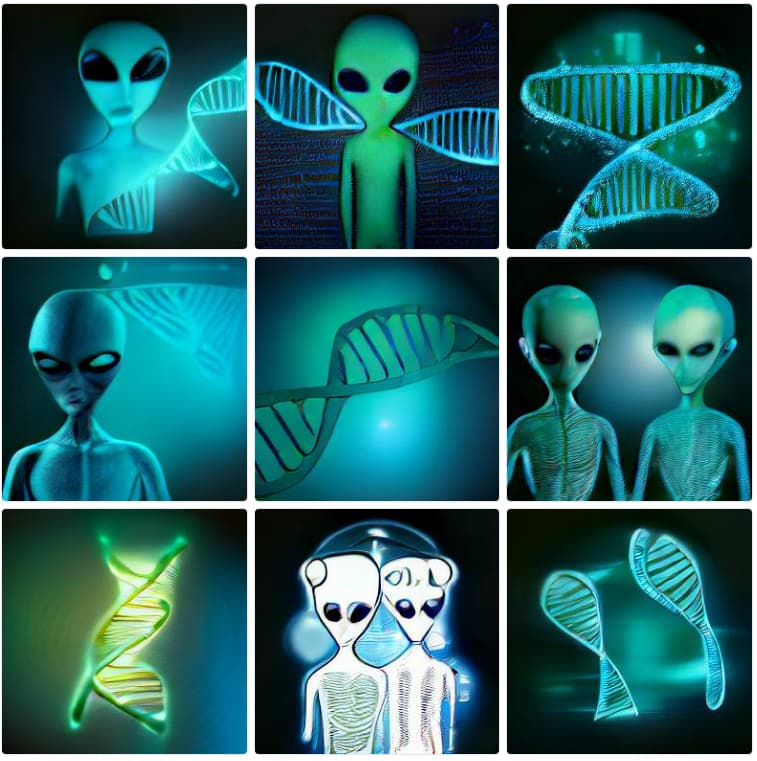 If you get some interesting results, be sure to post them here.