Here, from a NASA conference presentation [PDF], is the "concept of operations" for the Artemis III return to the Moon mission.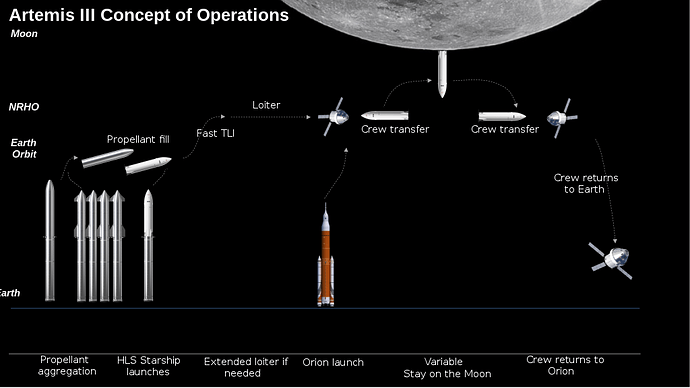 No, you're not hallucinating. Whereas Apollo required one launch of a Saturn V to land two people on the Moon, Artemis III will require:
SpaceX launch of Earth orbit Starship propellant depot
Four (or so) SpaceX launches of Starship tankers which will rendezvous, dock, and transfer propellant to the depot
SpaceX launch of the Human Landing System (HLS) Starship which docks with the propellant depot, refuels, and then departs to pre-position itself in lunar orbit
NASA launch of SLS/Orion with four astronauts, which delivers them to lunar orbit to rendezvous with the HLS
Two astronauts transfer to HLS and land on the Moon
After the flags and footprints, HLS returns to dock with Orion in lunar orbit
Orion returns to Earth
So, to land two people on the Moon, Artemis will require around six launches of Starship (which has never flown to orbit), orbital operations with a Starship propellant depot, multiple Starship tankers (with orbital propellant transfer which has never been demonstrated), and the Starship HLS, none of which has yet been built or flown, and a launch of the entirely expendable (with the exception of the crew capsule) SLS/Orion. And this is supposed to happen "no earlier than" 2025. I'd call that a safe bet.
This is described as the path to sustainable lunar exploration.