In the summer, the last thing anybody wants is a hot meal that takes a long time in a hot kitchen to prepare. One the favourite estival eats at Fourmilab for decades has been this dish called "Tuna, Shells, and Peas" (although onions are just as significant and important an ingredient), which you can make in around 15 minutes and, once made, will keep for days in the refrigerator. It then will take less than a minute to dump a serving into a bowl, season to taste, and enjoy. Further, the ingredients are not perishable and will keep for months, ready to use whenever you want to indulge in this tasty comfort food.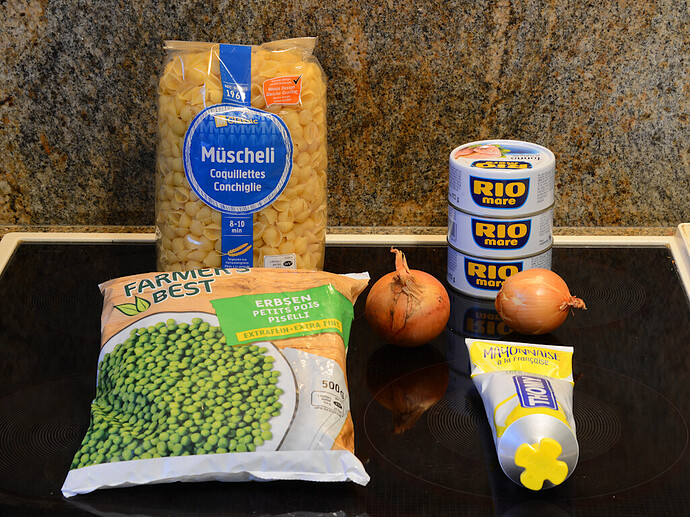 Assemble the ingredients. The quantities given make around five generously-sized servings.
350 grams shell pasta
225 grams (drained) canned tuna in brine
500 grams frozen peas, extra fine (small) if available
2 small/medium onions
mayonnaise (add to taste)
salt (add to taste)
fresh ground black pepper (add to taste)
I normally use small shell macaroni, but feel free to substitute any kind of pasta you prefer. When using other pasta, keep the weight constant, as the density of pasta varies with the shape and volume will differ.