Henley & Partners, an international consulting firm specialising in residence and citizenship by investment, in conjunction with the International Air Transport Association, compiles and publishes annual editions of the Henley Passport Index which, for 199 different passports and 227 travel destinations, ranks nationalities by the number of destinations to which holders of their passports may travel without a visa. (There are more passports than countries in the world because regions of certain countries have different passports. For example, Hong Kong and Macau, officially parts of China, have their own passports which afford their holders much more visa-free travel [170 and and 144 destinations, respectively] than that of China proper [74 destinations]).
The Henley Passport Index for 2022 was published on 2022-01-11 and is available as a Web page or infographic [PDF]. Here are the nationalities in the top ten ranks from the infographic.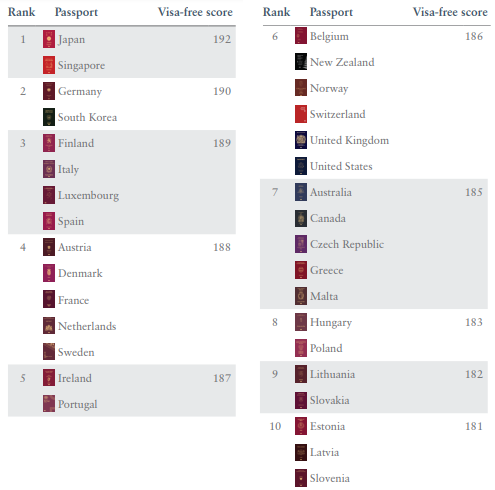 Think of these as "A List" passports. Here is "F Troop".