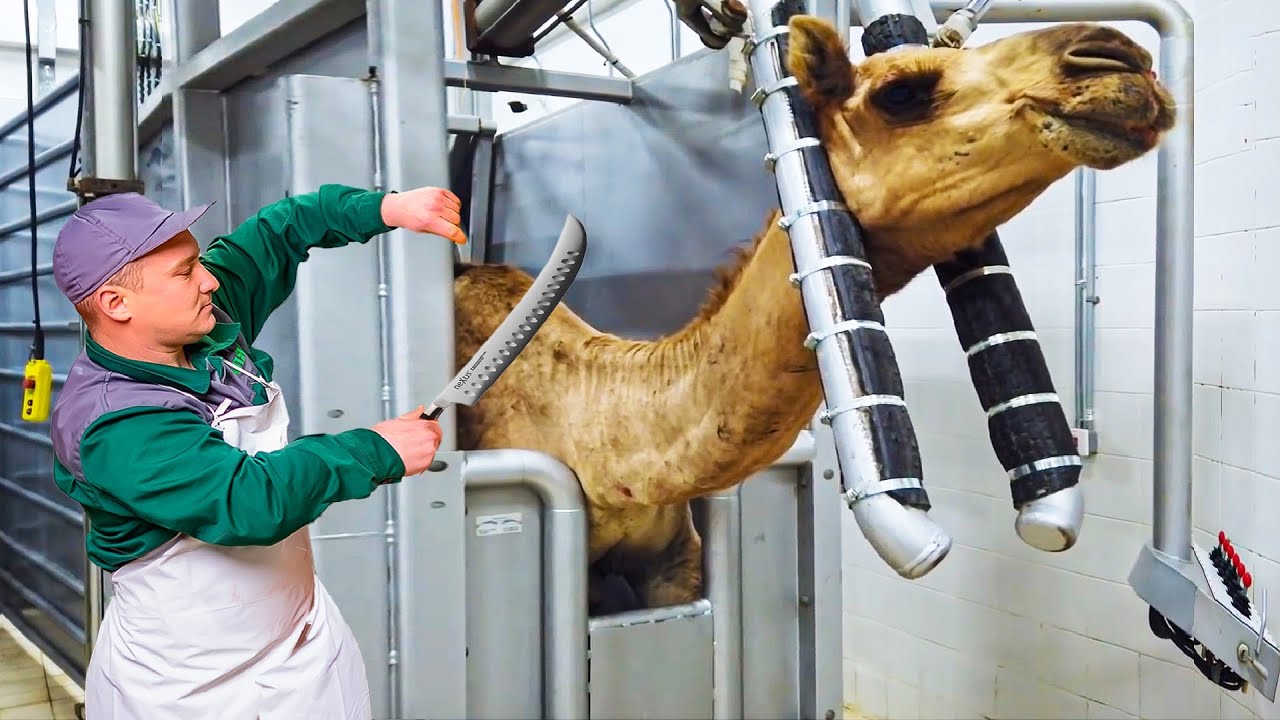 Camelicious markets their dairy products around the world and even has a U.S. subsidiary.
It's not just a lot, camels are also efficient meat producers. Many animals that haven't been domesticated as meat animals produce less meat as a fraction of the total weight of the animal (this is called the "dressing percentage") than beef cattle, which run 45–50%. Camels are typically 55–70% carcass to on the hoof weight. Pigs are better still, 65–80%, but they don't eat pigs in most of the land of the camel.
Never mind the efficiency. How does the meat taste? People often complain of the gamey character of meat from undomesticated animals, though I personally don't mind it. Furthermore, that meat tends to be tougher.
I've never tasted it, but from the descriptions I've read it's described as similar to beef in taste, around as close as horse meat, which I have eaten (it is very common in Switzerland, mostly imported from Canada). Horse meat is close to beef, but generally a lot leaner than beef in in the U.S., so if cooked too aggressively it may be tough. (The beef you get here is, itself, generally much leaner than in the U.S.). The gamey nature of meat depends, in part, on what the animal eats. Horse meat fed on grass and grain is not in the least gamey (compared, for example, to the distinct taste of mutton, even if 100% grass fed). The descriptions of camel meat I've seen do not describe it as gamey. The meat is described as more coarse than beef and gets tougher as the animal ages. Most camels raised for meat are slaughtered between age 5 and 10. Camels live 40 to 50 years, and the meat from an oldster probably needs to be cooked very slowly in some kind of liquid like a stew to be chewable. The same phenomenon obtains with lamb/mutton/elder sheep.
We had veal for dinner tonight and I was struck (again) how different veal and beef taste. It's almost like they are different animals.
Taste of meat is affected by what the meat animal eats. Wild crocs eat fish and carrion (in addition to antelope and buffalo, the odd nake), probably not taste so good themselves, but ranched crocs are fed chicken…and 'taste like chicken' - who'd a-thunkit.
It looked like the ranched camels were being fed something like alfalfa.
I'm sure I've been fed camel on my trips to Egypt, but meat ws just usually called 'meat', so I can't compare. Once made the hideous mistake of ordering lamb because if I had one more chicken dish I feared I'd start clucking. Essentially inedible. Remembered too late what I saw sheep eating. Literally…garbage.
In 1984, I ate at a Bedouin village in the Negev Desert. Had the tastiest piece of "beef" I've ever consumed.
It was a cube about two inches on a side, was heavily stewed, relatively coarse in texture, and relatively brown in color.
Even if it was beef, it was likely prepared the same way they would have prepared camel.
I've had alligator and it also tastes like chicken, presumably because the gators on offer are also ranched and fed chicken. I wonder what this wild baby gator would've tasted like.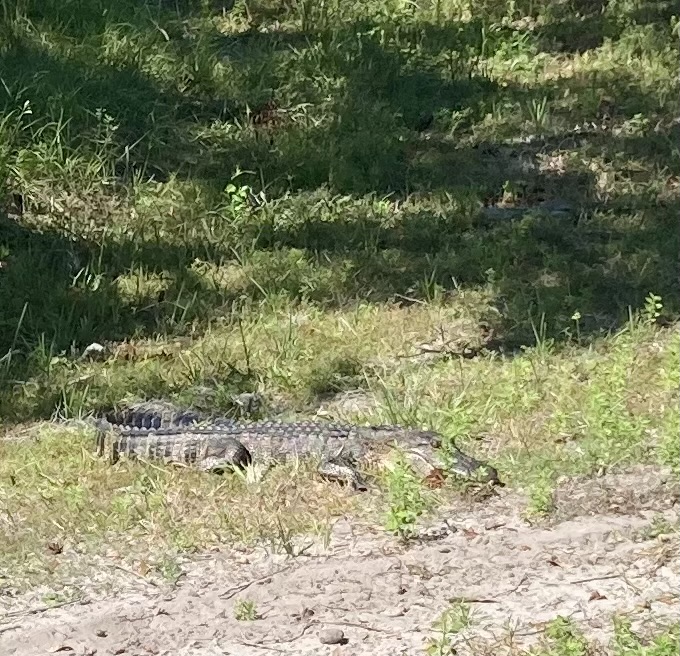 That's funny. The baby gator was looking at the photographer and thinking the same thing.
Probably but I kept a good, safe distance.
Chickens and crocodiles are close relatives, that's why they taste similar: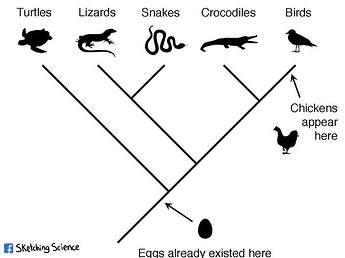 My friend who ate snake described the flavor as 'chicken with the texture of fish'.
And frogs too taste a bit like chicken but with an earthy subnote that was very similar to the flavor of escargot compared to mussel minus the seawater.
Fascinating. Never would have guessed this. I agree regarding frogs, which probably not fed on chicken either, thereby lending further weight to your thesis. Also agree on escargot/mussels.
The diet of snails does affect flavor. Historically they were harvested from vineyards, today they're fed basil before getting a purge:
Turkey, duck, pheasant, grouse, swan, and so on are closer to a chicken than a gator (I assume) and do not taste like chicken.
I always thought tastes like chicken was because someone went to great length to smother the real taste.
I wonder, if today's chicken tastes like chicken? Even free ranged chicken, probably doesn't taste like chicken.
"Like chicken" is short for "in the chicken flavor cluster versus pork or beef or venison cluster". Most people have 3-5 meat flavor clusters, you probably have 20

Ostrich is interesting: compared to turkey, it's a bit like horse to beef, or wild boar to pork. So it's closest to turkey with the additional flavor note of athleticism. I had a most fascinating tasting of pork-boar-boar meat at a farmer whose free-range sow was fertilized by a wild boar, he kept the reasonably well-behaved pork-boar daughter, and the process repeated itself.
The same would apply to the Hulk chickens of today - the chickens of heyday had more athleticism taste:

Time to bring back Great Mambo Chicken!