Robert Kroese, author of more than thirty works of science fiction including the wonderful Iron Dragon saga and the Mammon techno-political-economic thriller trilogy, has launched a Kickstarter for his next project, three books (or more) in a series called Cross-Time Crusade, with the first book to be titled Codex Babylon. Click the series title or the image below to view the Kickstarter page, including a video introduction to the project by the author.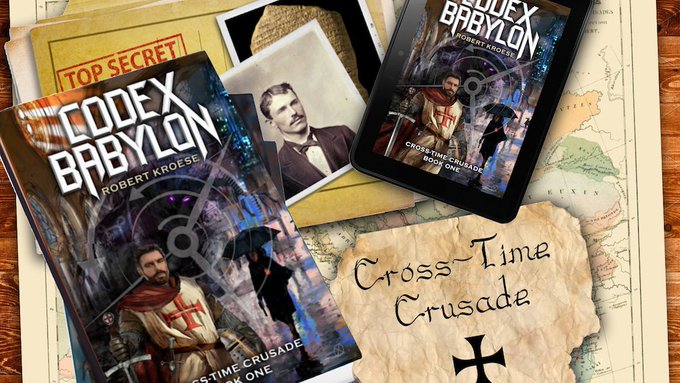 Here is the plot synopsis from that page.
A secret cabal of demonic forces threatens to destroy civilization and plunge the world into a new Dark Age. Humanity's only chance is a shadowy organization called GRAIL—the modern day heirs to the Knights Templar—which has discovered the secret to time travel. The past cannot be changed, but if GRAIL can send an agent into the past to recover a lost book on demonology called the Codex Babylon, they may have a fighting chance to save humanity from utter destruction.

The Cross-Time Crusade is a series of books chronicling GRAIL's efforts to preserve a remnant of humanity from an unstoppable cataclysm. At this writing, three books are planned. The Cross-Time Crusade is more than just a book series, though: it is also a real-world mystery of epic proportions.

The Knights Templar have been shrouded in mystery since their inception. Who were they, exactly? Why was the order formed? What was their role in the Crusades, and what were their relations with heretical groups like the Cathars, the Arabs and Turks who fought with them for control of the Holy Land, and the mysterious order known as the Assassins? What was the reason for their sudden betrayal, persecution and dissolution? Was there any truth to the charges of heresy or worship of a demonic entity called Baphomet? And most pressing, have the Templars survived in some form to the present day?

The Cross-Time Crusade books will provide some possible answers to those questions–but the books are only part of the story. You will be invited to solve some of the mysteries yourself, and if you're particularly adept, you'll even get a chance to help shape how future books unfold.
The project is well on its way to being funded: it has raised more than US$10,000 of its US$15,000 goal in just a few days. There are a variety of rewards available for backers, all of which include early access to one or all of the books before they are generally available. The planned publication dates for the three volumes are:
Codex Babylon: March, 2023
Heretic's Game: July, 2023
Militia Dei: November, 2023
and all are expected to be about 300 pages. Robert Kroese usually hits his advance publication dates on the button.
I have backed this project.