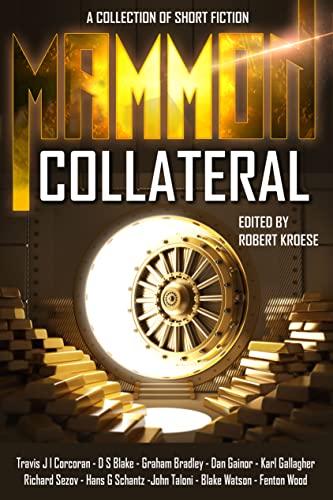 Kroese, Robert. Collateral: A Collection of Short Fiction (Mammon). Grand Rapids MI: St. Culain Press, 2022. ASIN B09WG8MGB6.

I have previously reviewed the first two volumes of Robert Kroese's magnificent trilogy-in-progress, Titan (Mammon vol. 1) and Reading List: Messiah (Mammon vol. 2). While we wait for the conclusion, Nemesis, due to appear in July 2022, the author has published Collateral, a collection of short fiction by like-minded independent science fiction writers, many of whom are among my favourites. All stories are set in the Mammon timeline, and occur around the economic collapse, asteroid diversion attempts, and eventual impact around which the trilogy is centred. The main characters of Mammon appear only as off-stage figures, with the stories here about people living their lives in the world created by their actions.

The stories range from short to novella length, and from tales of the cat that walked off with the cryptocurrency keys to saturation divers seeking a fortune in platinum group metals at the bottom of the Gulf of Mexico. This is a fine addition to the tales of Mammon and is not only enjoyable but may introduce you to authors whose other work you may wish to explore. Stories included are:

"Crypto Cat" by John Taloni
"Short, Random Words" by D.S. Blake
"Double Cross" by Graham Bradley
"The Siege of Acme" by Richard Sezov
"Duty" by Karl Gallagher
"The Alumni Association" by Hans G. Schantz
"Getting Out" by Dan Gainor
"The Kulaks" by Fenton Wood
"Glomar Extractor" by Travis J I Corcoran

This book is presently available only in a Kindle edition and, like Mammon volumes 1 and 2, is free for Kindle Unlimited subscribers. I read a pre-publication copy provided to Kickstarter backers of the project, among whom I figured.