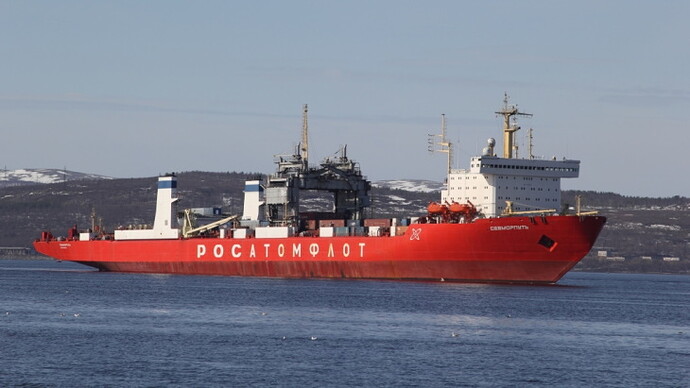 The Maritime Executive reports that "Russia's Nuclear-Powered Cargo Ship Makes Late-Season Arctic Voyage". The Sevmorput is the world's only operating nuclear powered cargo ship and is capable of unescorted voyages through ice as thick as one metre. It is powered by a single KLT-40 reactor with a thermal power of 135 megawatts (the Arktika class nuclear powered icebreakers have two reactors for redundancy) and has a container cargo capacity of 1328 TEUs.
Cargo on this voyage from St Petersburg to Vladivostok is 1400 tonnes of metal components for two VVER-1200 nuclear reactors which Rosatom subsidiary AtomStroyExport is building at Rooppur on the Ganges River in Bangladesh.
Here is a video of Sevmorput operations.
I photographed Sevmorput at her Atomflot base in Murmansk in 2008.