On June 29, 2023, SCOTUS rejected the use of affirmative action in college admissions, ruling in favor of the Students for Fair Admissions (SFFA) association who had filed their suit against Harvard in 2014 (original petition link)
As the case wound its way through courts, both sides brought along well known experts to support their side of the argument. An interest sidebar in the case was the debate between Peter Arcidiacono and Glenn Loury (and others) around the suitability of including the so-called "personal ratings" in the Harvard college admissions process. For a good short summary of the case progress through lower courts, see the Book of Knowledge (source)
Ron Unz has an interesting summary with numerous links to provide context (source). The article includes links to admissions statistics links to top tier US universities covering 1980-2000s. Here is the money shot graph Unz authored circa 2014 to explain the basis for the case in simple visual terms.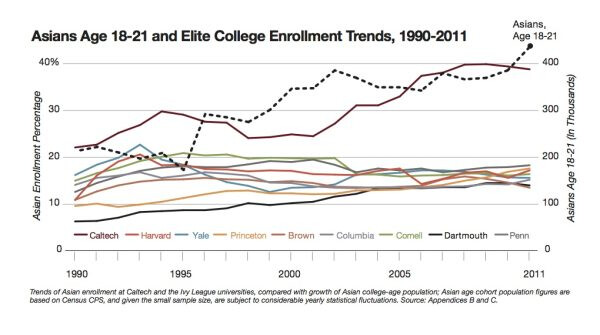 Predictably, the Big Guy did not disappoint - "Not a normal court" he said, when asked to comment on the SCOTUS decision. Hours later, WH spinmeisters started the arduous climb to walk it back.

Interestingly, the majority opinion in the 2003 Grutter v. Bollinger case involving the University of Michigan affirmative action case had Justice O'Connor writing
"The Court expects that 25 years from now, the use of racial preferences will no longer be necessary to further the interest approved today"
Hanania had a piece (link) with the subhead "The lives of DEI bureaucrats have just gotten a lot harder".
My take that DEI bureaucrats are thinking "challenge accepted". I fear that those that celebrate the SCOTUS decision now and underestimating the "death by a thousand paper cuts" process that determined activists will continue.