There's no good time to go bankrupt, but if you're going to do it, the week-end is generally the time to choose, since you have a longer break while the markets are closed to get everything in order, prepare the bankruptcy court, regulatory, and exchange filings, draft press releases, and schedule announcements to employees, suppliers, customers, and shareholders. The week-end between Friday, 2023-05-12 and 2023-05-15 was particularly peppered with bankruptcies, as Bloomberg's "The Blitz" newsletter reported in "Bankruptcy Weekend Blitz Is Just the Beginning for Zombie Companies" on 2023-05-16.
By the time the wave of filings was over early Monday, seven large companies had gone bankrupt, a sudden burst that's without precedent in the 15 years that Bloomberg has been tracking the data.
Here are the casualties.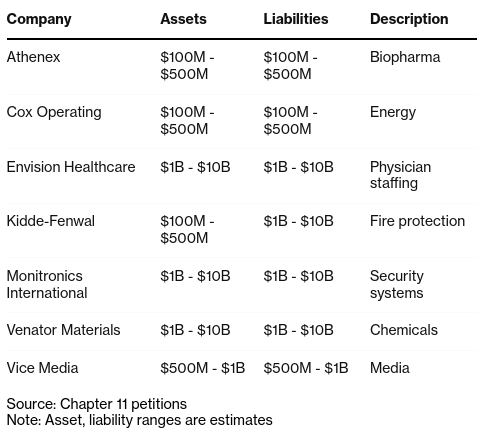 Fire protection company Kidde-Fenwal is the present-day successor to a company which has been in operation since 1917, 106 years ago. Vice Media was only founded in 1994, but grew to more than US$ 1 billion revenue and 3000 employees before packing it in with between one half and one billion US$ in liabilities.
Odds are, if U.S. interest rates remain at their current levels or continue to rise, that these are not the last apples to fall from the tree.