This is a new topic, along the lines of "The Brian Williams Memorial Murray Gell-Mann Amnesia Effect Reading Room" where comments announce and link to items indicative of our living in the "Crazy Years" forecast by Robert A. Heinlein in his 1958 novel Methuselah's Children. This was part of the "Future History" Heinlein sketched out around 1940 and within which much of his subsequent fiction fits.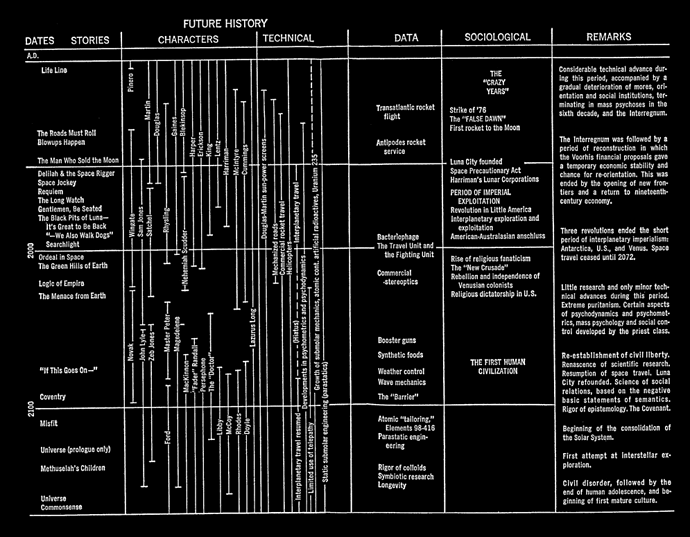 The timeline begins with "the crazy years", when exponentially accelerating technological change and the social and economic disruptions it produces causes those experiencing it to go around the bend. He illustrated this by a collection of headlines from that era.
BABY BILL BREAKS BANK 2-year toddler youngest winner $1,000,000 TV jackpot White House phones congrats

COURT ORDERS STATEHOUSE SOLD Colorado Supreme Bench Rules State Old Age Pension Has First Lien All State Property

N.Y. YOUTH MEET DEMANDS UPPER LIMIT ON FRANCHISE

"U.S. BIRTH RATE 'TOP SECRET!' "—DEFENSE SEC

CAROLINA CONGRESSMAN COPS BEAUTY CROWN "Available for draft for President" she announces while starting tour to show her qualifications

IOWA RAISES VOTING AGE TO FORTY-ONE Rioting on Des Moines Campus

EARTH-EATING FAD MOVES WEST: CHICAGO PARSON EATS CLAY SANDWICH IN PULPIT "Back to simple things," he advises flock.

LOS ANGELES HI-SCHOOL MOB DEFIES SCHOOL BOARD "Higher Pay, Shorter hours, no Homework—We Demand Our Right to Elect Teachers, Coaches."

SUICIDE RATE UP NINTH SUCCESSIVE YEAR AEC Denies Fall-Out to Blame
Are we living in Heinlein's Crazy Years? See the comments below.
Heinlein's contemporary, science fiction writer A. E. van Vogt, described societal craziness as follows.
Craziness can be measured by maladaptive behavior. The behavior the society uses to solve one kind of problem, when applied to an incorrect category, disorients it. When this happens the whole society, even if some members are aware of the disorientation, cannot reach the correct conclusion, or react in a fashion that preserves society from harm. As if society were a dolphin that called itself a fish: when it suffered the sensation of drowning, it would dive. But a dolphin is a mammal, a member of a different category of being. When dolphins are low on air, they surface, rather than dive. Putting yourself in the wrong category leads to the wrong behavior.