You'll note that nowhere is Canada mentioned despite the obvious interest they should have in the matter. I love my homeland, but they are crazy.
My base case is that this is an arm twist for more money for the swamp. Zuck is going to need to come up with more than 450 million for the 2024 election.
Ukraine war propaganda machine breaks down—"Had a problem with the tranny."
Meanwhile, Commandante Z is hinting at terrorism by all those military-age men who have fled his paradise for more peaceful parts of Christendom.
Quoting an Economist interview published on 2023-09-10 (paywalled):
Curtailing aid to Ukraine will only prolong the war, Mr Zelensky argues. And it would create risks for the West in its own backyard. There is no way of predicting how the millions of Ukrainian refugees in European countries would react to their country being abandoned.

Ukrainians have generally "behaved well" and are "very grateful" to those who sheltered them. They will not forget that generosity. But it would not be a "good story" for Europe if it were to "drive these people into a corner".
(Emphasis added by ZeroHedge.)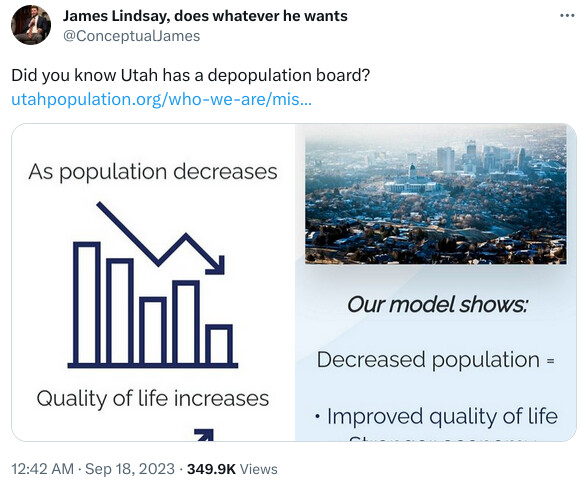 Here is the Mission Statement, Values, & History of the Utah Population and Environment Council.
Our Values

Reproductive freedom
Gender equity
Diversity and inclusion
Quality of life for present and future generations
Thinking globally, acting locally
Sustainability and ecological integrity
This is a 501 (c) 3 do-badder organisation, not funded (apart from tax exemption) by the state.
Bwahahahaha! Good one John. Maybe it's gear box is packed too tight! Hahaha
Apparently there is an institute … what will they invent next?
The 76-year-old Serbian artist had previously carried out these performances herself.

For this run she has enlisted a 42-strong team of "re-performers", many of whom are graduates trained in her method at her institute in New York.
But do members have diplomatic immunity?
Where do they get off claiming Scott violated labour law? Hold on to your hat…
On Monday September 18, 2023 Tim Scott threatened employees with adverse consequences if they engage in protected, concerted activity by publicly responding to a question about striking workers as follows: 'You strike, you're fired.'"

The complaint was filed against Scott in his capacity as a representative for Tim Scott for America. In addition to being a senator representing the state of South Carolina, Scott is running for president, making him an employer as well. The premise of the complaint is that Scott's comments could be construed as a direct threat against his campaign staffers, whose right to strike is enshrined in federal law.
So, you see, when he threatens UAW workers, he's actually threatening his campaign workers, for whom he is the employer. (I doubt seriously Scott's campaign workers are unionised.)
As I used to say after learning about things such as the "quiet period" around an initial public stock offering and the criminal sanctions for discussing financial results before they are filed with the SEC, "If you think you have freedom of speech in the U.S., just try opening your mouth."
The "CEO trials" in Travis Corcoran's Aristillus novels don't seem far fetched at all if you've ever been CEO of a U.S. public company.
Well it's official: Ukraine is a big child molestation operation.
Shades of Jim Geraghty's The Weed Agency!
I am presuming you make this "observation" rather tongue-in-cheek.