Before the Cambrian explosion (538.8 million years ago), the oceans of Earth were home to a variety of life forms which appear to have no descendants in the subsequent fossil record or today. These were soft-bodied organisms which appear to be (although even this is disputed) multicellular life, including plants and (again disputed) animals. This period in Earth's history has been named the Ediacaran after the hills in South Australia where one collection of fossils were found. The Ediacaran has been dated from 635 million years ago to the start of the Cambrian at 538.8 million years, at which time all signs of the Ediacaran biota disappear (eaten?).
The first Ediacaran fossils were found in 1868, but it was not until the 1950s that they were definitively identified as dating from the Precambrian period. "Everybody knew" that complex, multicellular life originated in the Cambrian, so the fossil evidence to the contrary was largely ignored until sufficient discoveries accumulated to change the consensus. It was only in 2004 that the International Union of Geological Sciences officially designated the period as "Ediacaran".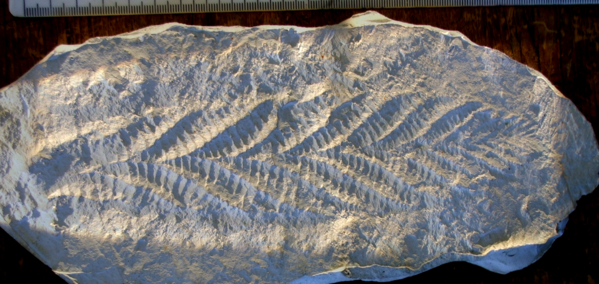 Charnia masoni, discovered in England in 1956, was the first fossil to be definitively dated to the Precambrian period.