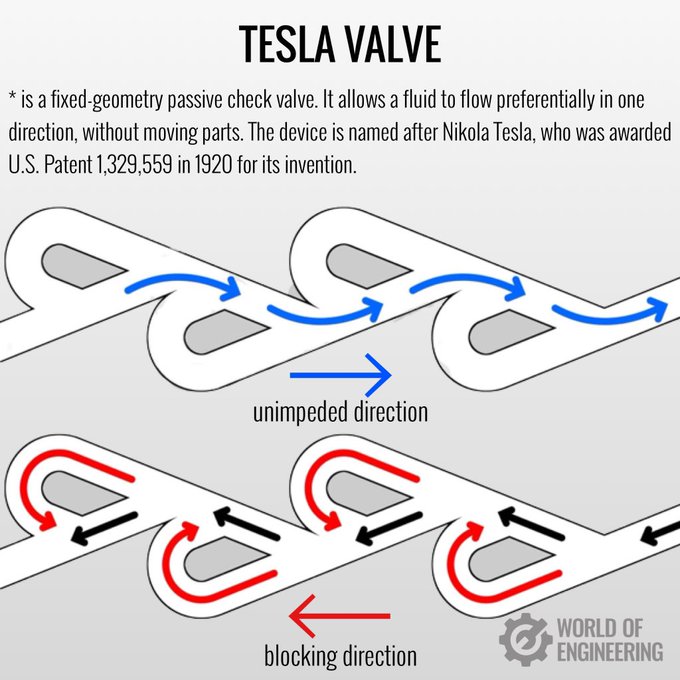 Nikola Tesla is best known among electrical engineers for his invention of the induction motor and polyphase power distribution, which were the foundation of the wide-scale electrification of industry and the modern power grid. But Tesla's inventions were not confined to electricity. He also ventured into fluid mechanics, in 1913 inventing the Tesla turbine, a bladeless turbine exploiting the boundary layer effect and, in 1920, the Tesla valve, an (imperfect) check valve for fluids with no moving parts, for which Tesla received U.S. Patent 1,329,559 "Valvular Conduit" [PDF].
When used with pulsing fluid flows, a Tesla valve with between two and four segments can achieve flow resistance between 15 and 40 times greater in the blocking direction than in the unimpeded direction and, with no moving parts, is immune to wear and failure modes of conventional check valves, With steady flows, it is less efficient, with blocking factors between 2 and 4.
The Tesla valve is used in microfluidics, where its lack of moving parts makes it easy to fabricate and, in many applications, its small leakage can be tolerated.
Here is a video that explains how the Tesla valve works.