You knew this time was coming. I knew this time was coming. So did they.
The gaslighting begins.
Democrats were never in favor of the vaccines. Democrats never forced any vaccine mandates or said they would work or caused people to lose their lives or livelihoods over the vaccines. Trump did all those things, after tearing down statues and defunding the police.
And we've always been at war with Eastasia.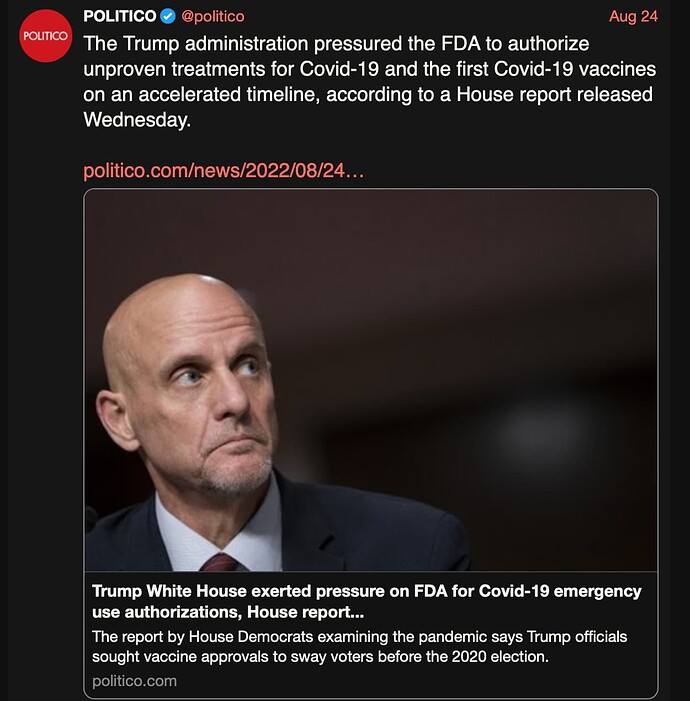 This, of course, reminds me of my 'favorite' scene in Orwell's 1984, to the extent that I could have a favorite anything in such a depressing piece of work. It is Hate Week, and Winston Smith is attending a rally against Oceania's hated enemy, Eurasia.
[J]ust this moment it had been announced that Oceania was not after all at war with Eurasia. Oceania was at war with Eastasia. Eurasia was an ally.

There was, of course, no admission that any change had taken place. Merely it became known, with extreme suddenness and everywhere at once, that Eastasia and not Eurasia was the enemy. Winston was taking part in a demonstration in one of the central London squares at the moment when it happened… On a scarlet-draped platform an orator of the Inner Party, a small lean man with disproportionately long arms and a large bald skull over which a few lank locks straggled, was haranguing the crowd… The speech had been proceeding for perhaps twenty minutes when a messenger hurried on to the platform and a scrap of paper was slipped into the speaker's hand. He unrolled and read it without pausing in his speech. Nothing altered in his voice or manner, or in the content of what he was saying, but suddenly the names were different. Without words said, a wave of understanding rippled through the crowd. Oceania was at war with Eastasia! The next moment there was a tremendous commotion. The banners and posters with which the square was decorated were all wrong! Quite half of them had the wrong faces on them. It was sabotage! The agents of Goldstein had been at work! There was a riotous interlude while posters were ripped from the walls, banners torn to shreds and trampled underfoot… The Hate continued exactly as before, except that the target had been changed.

The thing that impressed Winston in looking back was that the speaker had switched from one line to the other actually in midsentence, not only without a pause, but without even breaking the syntax.
Sources:
https://nitter.net/politico?cursor=HBaAwNORorKNrysAAA%3D%3D