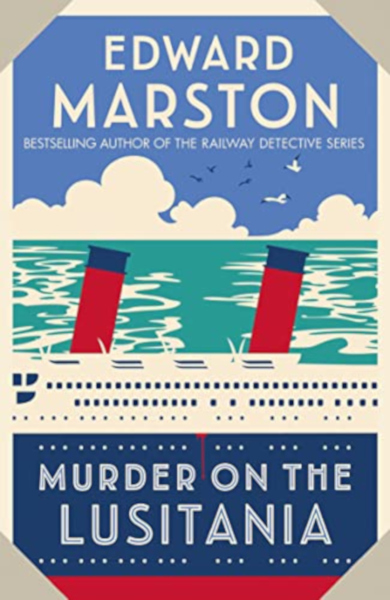 Looking for a good read? Here is a recommendation. I have an unusual approach to reviewing books. I review books I feel merit a review. Each review is an opportunity to recommend a book. If I do not think a book is worth reading, I find another book to review. You do not have to agree with everything every author has written (I do not), but the fiction I review is entertaining (and often thought-provoking) and the non-fiction contain ideas worth reading.
Book Review
A Mystery Series Opening on a Maiden Voyage
Reviewed by Mark Lardas
December 18, 2021
"Murder on the Lusitania," by Edward Marston, Allison & Busby, 2021, 288 pages, $12.95 (paperback), $5.99 (ebook)
In 1999, published under the pen name Conrad Allen, a mystery was released. It featured a murder aboard RMS Lusitania during its maiden voyage. It was the first of eight mysteries featuring detectives George Porter Dillman and Genevieve Masefield aboard various Atlantic liners in the years prior to World War I.
"Murder on the Lusitania," by Edward Marston, rereleases the book. Marston, like Allen, is a pen name used by author Keith Miles, the one he most commonly uses.
Dillman's role is revealed gradually. He has been hired by the Cunard to operate undercover among the passengers aboard Lusitania during its 1907 maiden voyage. He is traveling as a first-class passenger, with the other passengers unaware of his true role. His mission is to mingle among the passengers keeping a watch out for petty criminals (pickpockets and thieves) and professional gamblers who might be working the passengers.
At first things go much as Dillman and the Cunard expect. Dillman initially finds himself serving as a goodwill ambassador, rather than as a detective. Then Henry Barcroft, an obnoxious freelance reporter travelling first class, is found dead in his cabin. Plans of Lusitania , which earlier disappeared from the Chief Engineer's office, are found with the corpse.
Dillman has two mysteries to solve. Who killed Henry Barcroft and why did Bancroft steal the plans? Both seem insoluble. Barcroft made numerous enemies among the passengers during his brief existence aboard Lusitania , so Dillman has a surfeit of suspects. Why he had the plans seems even more mysterious. Was this industrial espionage done for Cunard's American competitors? Was Barcroft planning an expose about Lusitantia? Or was it something else?
Whatever the reasons, Dillman needs to solve both mysteries before Lusitania docks at New York. Lusitania 's captain and crew are keeping the murder secret to aid in the investigation. (A task simplified by Barcroft's unpopularity.)
Dillman begins to receive assistance from another first-class passenger, Genevieve Masefield, an upper class Englishwoman. Masefield, like Dillman has a past she wishes forgotten. The two soon form an unlikely alliance, and begin uncovering secrets about the passengers relating to the theft and murder.
"Murder on the Lusitania" has been out of print for over twenty years. Yet it remains as entertaining as anything written this year and over the intervening years. If you missed it earlier, this relaunch of the series is an opportunity to become acquainted with a first-class mystery series.
Mark Lardas, an engineer, freelance writer, historian, and model-maker, lives in League City. His website is marklardas.com .