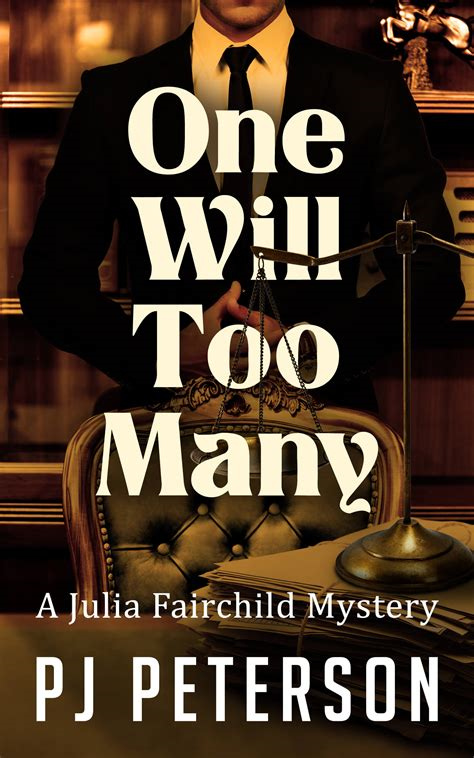 Looking for a good read? Here is a recommendation. I have an unusual approach to reviewing books. I review books I feel merit a review. Each review is an opportunity to recommend a book. If I do not think a book is worth reading, I find another book to review. You do not have to agree with everything every author has written (I do not), but the fiction I review is entertaining (and often thought-provoking) and the non-fiction contain ideas worth reading.
Book Review
A Methanolated Death
Reviewed by Mark Lardas
January 23, 2022
"One Will Too Many: A Julia Fairchild Mystery," by PJ Peterson, Finngirl, LLC, 2021, 218 pages, $12.99 (paperback), $3.99 (ebook)
Julia Fairchild is a physician in a small southern Washington State town. She has long-term family roots in Parkview, a town of 38,000 built around the local pulp and paper mill. An internist at the local hospital, Julia has a hobby: solving mysteries.
"One Will Too Many: A Julia Fairchild Mystery," by PJ Peterson is this series's fourth book. In the first three a peripatetic Fairchild (generally accompanied by her sister Carly) are vacationing in exotic locations. This one takes place in Parkview.
It begins with Pam, a childhood friend of Julia getting called out of town abruptly. Pam has to skip an important fundraising event to restore a landmark historic theater building in Fairview. She twists Julia's arm into replacing her at the tux and formal dress event. This ends up involving Julia in a bizarre death. When banker Jay Morrison gets drunk Julia give his girlfriend Sophia a ride home. The next morning, Julia drives Sophia to Jay's house so Sophia can recover her car. They find Jay unconscious in the dining room.
Julia does her best to save Jay, but he dies soon after reaching the hospital. The coroner rules the death homicide. Jay died of methanol poisoning. The local police soon reach a dead end.
Feeling involved (she did discover him), Julia starts working to find the killer. The local police are short-handed. Julia has a nephew in the sheriff's department who is working on the crime. Through him she gets permission to investigate.
It proves a tangled web. Morrison had many secrets – some serious enough to kill him over. Even Julia's boyfriend Alex seems involved somehow. The killer is willing to use violence to remain undetected.
"One Will Too Many" is a book written for those who watch the Hallmark Channel. It is easy to see this book adopted into a Hallmark movie. The main characters are college-educated upwardly-mobile professionals: doctors, lawyers, and bankers. Parkview is a town of sturdy Americana in a bucolic setting. The poverty seen is many small towns is absent.
This is not bad. Not every murder mystery has to be a gritty noire passage though urban mean streets. Agatha Christie's mysteries and Dorothy Sayer's Peter Wimsey tales were had backgrounds corresponding to Peterson's tale, albeit set in England. "One Will Too Many" offers pleasant entertainment; a brief escape to a world where restoring a nineteenth century theater is a town's biggest problem.
Mark Lardas, an engineer, freelance writer, historian, and model-maker, lives in League City. His website is marklardas.com .