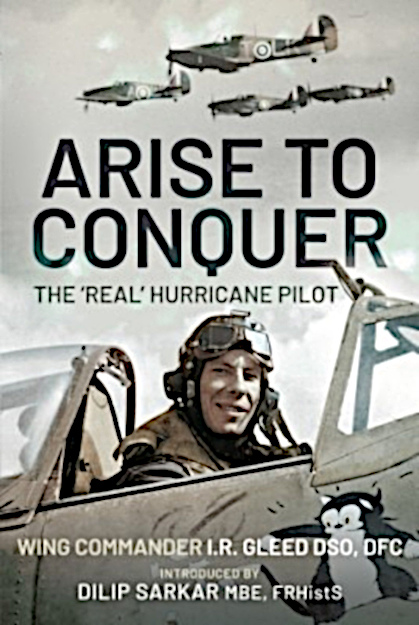 Looking for a good read? Here is a recommendation. I have an unusual approach to reviewing books. I review books I feel merit a review. Each review is an opportunity to recommend a book. If I do not think a book is worth reading, I find another book to review. You do not have to agree with everything every author has written (I do not), but the fiction I review is entertaining (and often thought-provoking) and the non-fiction contain ideas worth reading.
Book Review
A Pilot's View of the Battle of Britain
Reviewed by Mark Lardas
July 10, 2022
"Arise to Conquer: The 'Real' Hurricane Pilot," edited by Dilip Sakar, Air World, 2022, 232 pages, $49.95 (Hardcover), $29.99 (Ebook)
Ian Richard Gleed was one of Churchill's few, the RAF fighter pilots who fought the Battle of Britain, and defeated the Luftwaffe. He put his experiences down on paper, detailing his experiences during the Battle of France, The Battle of Britain and the 1941 nighttime Blitz.
"Arise to Conquer: The 'Real' Hurricane Pilot," edited by Dilip Sakar is a new release of this classic. Sakar adds an extensive introduction, framing this forgotten story for the modern reader. It also contains footnotes which explain Gleed's slang and technical terms which might baffle today's readers.
Gleed's memoirs were originally published 1942. It was one of the earliest first-person accounts of the battle available to the public. Although fictionalized, it shows what it was like to be a fighter pilot during the opening days of World War 2. You experience Gleed's triumphs, terrors, and disappointments.
He gives the cockpit view of the battles, and reveals the tedium associated with air warfare. There were long periods when little happened. He also shows how the pilots lived, waited at ready, and released steam during their leaves and free time. This includes a look at his family.
As history it is unreliable. The fog of war led Gleed to make mistakes. Operational security prevented Gleed from revealing information that might help the enemy. One example: radar is glossed over. Gleed's squadron keeps stumbling on enemy aircraft. In reality they were being vectored by radar. Similarly Gleed fictionalizes his personal life. He was homosexual, but added a non-existent fiancé to distract from this.
Yet "Arise to Conquer" remains worth reading. The focus is on Gleed and pilots in Gleed's squadron. They come across as very young, men who have just become men, and are far more innocent than those of that age today.
During most of the period related in this book Gleed flew Hurricanes. This included night fighter and bomber missions. He rose from flying officer to wing commander during that period. Gleed was an outstanding fighter pilot, with thirteen enemy aircraft shot down. He died in 1943, shot down in an air battle over Tunisia.
Gleed's memoir has been republished numerous times since 1942. This edition of "Arise to Conquer" is worth reading for Sakar's introduction, and also because it contains 60 wartime photos of Gleed's squadron. These were taken by Sergeant Laurence Thorogood, one of the squadron's other pilots, known as "Rubber" in the book.
Mark Lardas, an engineer, freelance writer, historian, and model-maker, lives in League City. His website is marklardas.com.