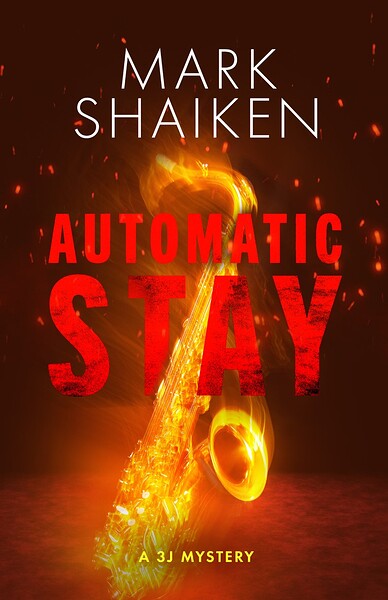 Looking for a good read? Here is a recommendation. I have an unusual approach to reviewing books. I review books I feel merit a review. Each review is an opportunity to recommend a book. If I do not think a book is worth reading, I find another book to review. You do not have to agree with everything every author has written (I do not), but the fiction I review is entertaining (and often thought-provoking) and the non-fiction contain ideas worth reading.
Book Review
Who Is Targeting the Jazz Clubs?
Reviewed by Mark Lardas
October 16, 2022
"Automatic Stay," by Mark Shaiken, 1609 Press LLC, May 20, 2022, 406 pages, $13.99 (paperback), $8.99 (ebook)
Josephina Jillian Jones (3J to everyone) is a bankruptcy lawyer. She and her mentor and law partner Bill Pascale are two of the best bankruptcy lawyers in Kansas City. It is usually not very exciting, but they provide a needed service.
"Automatic Stay," by Mark Shaiken, is a novel featuring these two and a bankruptcy case that became way too exciting. Their new clients, Adam and Bey Rapinoe own a nightclub chain featuring Kansas City jazz: BJB (Bring Jazz Back) LLC. From the 1920 through 1950 Kansas City, Missouri was one of America's four jazz capitals. The Rapinoes started their business to revive Kansas City's tradition in that most American of music – jazz.
They exceeded all expectations until Covid hit in 2020. The crowds stayed away. By 2023 they had run through their cash. Unable to continue paying their loan, they decided to take shelter in bankruptcy. They think they can turn things around if they can restructure the loan. It is pretty standard stuff for J3 and Pascale.
There is only one problem: the creditor, Phillip Dewey. He owns Veridical Lending, LLC, a privately owned venture capital firm. He lent them the money and received a healthy profit from them since then – until Covid wiped out their cash flow. Now, as he sees it, they are trying to cheat by using bankruptcy. What they are doing may be legal, but he does not view it as right. The only right thing is to pay him back what they borrowed at the terms they agreed to. If not, he will take them down. Even if he has to break the law to do so.
What starts out as a routine case for J3 and Pasquale takes an ominous turn as anonymous Internet postings begin character assassination of the Rapinoes and BJB. Commenters begin warning off performers and customers. No one can prove Dewey is behind this, but the campaign undermines the restructuring.
What follows is an increasingly fast-paced story as 3J and Pasquale try to discover the source of the smears. The reader is taken on several different trips during the course of the story. Shaiken provides a look at the mechanics of bankruptcy law, the dark web, and computer investigation. It is a taut, exciting tale.
If you think you cannot find an entertaining mystery around bankruptcy, get "Automatic Stay." Shaiken will keep you reading until it ends.
Mark Lardas, an engineer, freelance writer, historian, and model-maker, lives in League City. His website is marklardas.com.