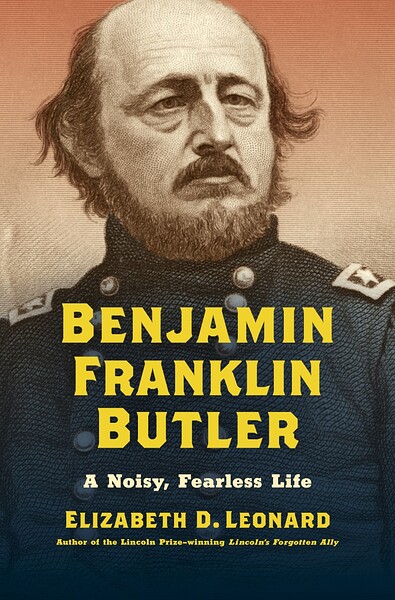 Looking for a good read? Here is a recommendation. I have an unusual approach to reviewing books. I review books I feel merit a review. Each review is an opportunity to recommend a book. If I do not think a book is worth reading, I find another book to review. You do not have to agree with everything every author has written (I do not), but the fiction I review is entertaining (and often thought-provoking) and the non-fiction contain ideas worth reading.
Book Review
The Bad Boy of the Union Army
Reviewed by Mark Lardas
August 28, 2022
"Benjamin Franklin Butler: A Noisy, Fearless Life" by Elizabeth D. Leonard, The University of North Carolina Press, May 2022, 392 pages, $36.00 (hardcover), $27.99 (e-book)
Few today remember Benjamin Butler. Those that do generally consider him an incompetent Union general during the American Civil War, or as "Spoons" Butler, enriching himself through stealing silver from Confederate sympathizers while he was military governor of New Orleans.
"Benjamin Franklin Butler: A Noisy, Fearless Life," by Elizabeth D. Leonard, is a new and sympathetic biography of Butler. It reveals the beauty within "Beast" Butler. It also explains how he obtained his "Beast" Butler reputation.
Butler's defense of the downtrodden, especially his support of black and women's rights, led to the disdain of his peers and hatred from post-war Lost Cause Confederates. He was pugnacious and never forgave a slight.
Despite an impoverished youth, through sheer determination Butler obtained a then-rare college education. He became a lawyer, a Democratic politician, and a successful businessman. Childhood poverty gave Butler lifelong sympathy for underdogs, initially mill workers and poor white laborers.
Butler applied to attend West Point while in college, but he could not get an appointment. Instead, he joined the local militia, rising to brigadier general in the Massachusetts militia. Laissez-faire about slavery before the Civil War, he was an ardent Unionist. He became one of slavery's bitterest opponents after Secession.
Leonard shows how Butler bulled his militia command through Baltimore to relieve Washington in the war's opening weeks. While commanding Fort Monroe, he treated runaway slaves as "contraband of war," depriving Confederate slave owners of their property. In New Orleans, he raised black regiments, advocating arming blacks. Later, he helped sponsor the 14th Amendment, served as a manager in Andrew Johnson's impeachment trial, and introduced the first amendment to give women the franchise.
Leonard blows away many hoary myths about Butler. Butler was scrupulously honest. She shows that while he confiscated Confederate property as military governor in New Orleans, he turned over everything seized to the Federal Government. While Butler did not personally profit, his brother did. Leonard shows how brother Thomas played a role similar to that of Billy Carter during Jimmy Carter's presidency.
Leonard occasionally ignores Butler's faults. Although an outstanding military administrator, Butler was a wretched field commander, something Leonard never acknowledges. She also ignores the collapse of the Freedman's Bank that Butler organized for freed blacks, as well as Butler's dodgy acquisition of the yacht America, which he owned for two decades. Despite this, "Benjamin Franklin Butler" is well worth reading. It offers an interesting look at a maligned figure.
Mark Lardas, an engineer, freelance writer, historian, and model-maker, lives in League City, TX. His website is marklardas.com. This review appeared in a different form in American Essence magazine and Epoch Times.