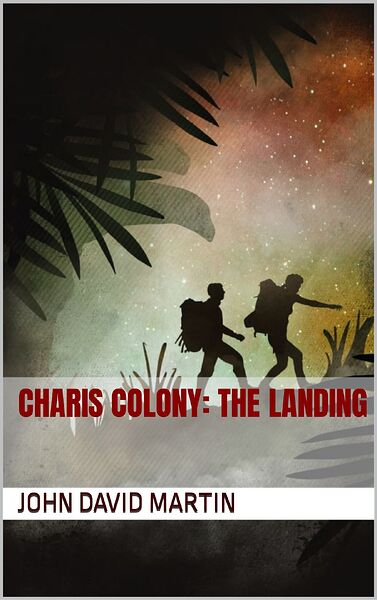 Looking for a good read? Here is a recommendation. I have an unusual approach to reviewing books. I review books I feel merit a review. Each review is an opportunity to recommend a book. If I do not think a book is worth reading, I find another book to review. You do not have to agree with everything every author has written (I do not), but the fiction I review is entertaining (and often thought-provoking) and the non-fiction contain ideas worth reading.
Book Review
You'll Stick With 'The Landing'
Reviewed by Mark Lardas
September 3, 2023
"Charis Colony: The Landing," by John David Martin, Independently published, 2020, 362 pages, $15.00 (paperback), $4.00 (ebook)
Dr. Raj Mondal works for the Landing's Genetic Hygiene Board. He sentences people to death. He does not see it that way. He sees his job as making the genetic classification system fairer. He counsels those carrying an excess error load (EEL) of genetic flaws to register.
"Charis Colony: The Landing," a science fiction novel by John David Martin, opens in The Landing, a city on Charis Colony, a planet settled by Earth. The colony ship has been destroyed they have lost contact with Earth, but the colony still exists over two hundred years after arrival.
Raj Mondal descended from the colony's leaders, and benefits from the system at the Landing. A socialistic society, it receives from each according to their abilities and provides for each according to their genetic status. An atheistic society, the only god is the state. Things start going sideways for Mondal after he counsels Vindaran Singh that as an EEL Singh has to register for harvesting.
Harvesting means getting exsanguinated and being broken up for donor organs. Singh, The Landing's foremost poet, objects stridently. He claims Mondal has turned him into a walking bag of spare parts. That Mondal is playing god. The confrontation upsets Mondal enough he takes the rest of the week off to take a solitary hiking trip.
The trip has two results. He meets Shirin Seethi, a naturalist who saves his life from the local wildlife. The two hit it off and decide to become mates. It also puts him afoul of Colonial Security. While Mondal has been hiking Singh escaped from the Landing. Colonial Security believes Mondal aided Singh. Even after Mondal, who is innocent, insists he was uninvolved. Colonial Security believes this just means Mondal was too clever to be caught.
Shirin becomes pregnant by Mondal. They are expecting their first child. Prenatal testing shows the child to be outstanding, classified as an Alpha, the highest possible genetic category. Colonial Security strikes back, illegally altering the test results to indicate the child should be aborted. If their child is to survive, Raj and Shirin must defy the Colonial Covenant, perhaps even to the extent of fleeing the Landing themselves.
"Charis Colony: The Landing" offers a story that is fast paced and cerebral. Raj Mondal is forced to confront long-held beliefs and challenge authority for the first time. Martin offers readers several competing views of society in this novel.
Mark Lardas, an engineer, freelance writer, historian, and model-maker, lives in League City. His website is marklardas.com.