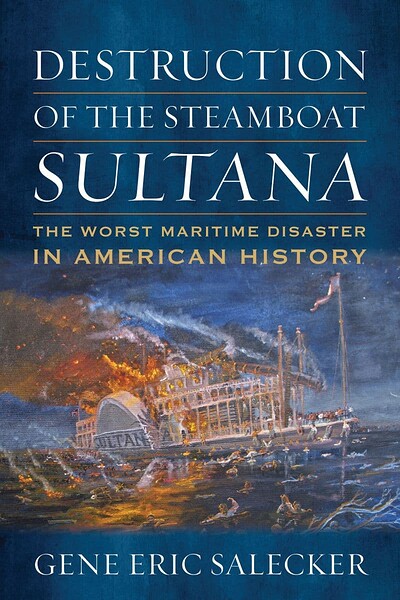 Looking for a good read? Here is a recommendation. I have an unusual approach to reviewing books. I review books I feel merit a review. Each review is an opportunity to recommend a book. If I do not think a book is worth reading, I find another book to review. You do not have to agree with everything every author has written (I do not), but the fiction I review is entertaining (and often thought-provoking) and the non-fiction contain ideas worth reading.
Book Review
Death on the Mississippi
Reviewed by Mark Lardas
October 30, 2022
"Destruction of the Steamboat Sultana: The Worst Maritime Disaster in American History," by Gene Eric Salecker, Naval Institute Press, 2022, 528 pages, $39.95 (Hardcover), $25.74 (ebook)
In April 1865 the steamboat Sultana's boilers burst shortly after passing Memphis on its way to Cairo, Illinois. The boat burned and sank. Aboard were nearly 2200 passenger and crew. Of those aboard, 1168 died. It was the deadliest maritime disaster in the United States. Not until Titanic sank in 1912 would another maritime disaster exceed Sultana's death toll.
"Destruction of the Steamboat Sultana: The Worst Maritime Disaster in American History," by Gene Eric Salecker, is a new book about the steamboat's loss. Salecker, acknowledged as one of the two foremost authorities about the steamboat's history took a fresh look at the disaster starting in 2015. This book is the result. It is the most authoritative look at the event written to date.
Salecker has been studying Sultana for over 30 years. He collaborated closely with the other acknowledge authority on Sultana, Jerry O. Potter, during that time. This book is the product of seven years of fresh research, with Salecker revisiting archives and reexamining court-martials records, official investigations, and personal recollections of the event.
The result is a fascinating and detailed account of what happened. He follows the history of the boat, exploring what caused the boiler explosion. He also examines what caused a boat that should have been carrying no more than 600 passengers to be overloaded with three times that many. They were paroled Union prisoners-of-war, being repatriated North. Instead of being split among three available boats they were all loaded into Sultana as part of a corrupt deal between Sultana's captain and the quartermaster officer loading prisoners. Salecker showed how the subsequent investigation convicted a totally innocent officer who attempted to prevent the overloading .
Salecker strips away many myths about the disaster. Besides showing the innocence of the tragedy's traditional villain he identifies the true guilty parties, showing how they evaded responsibility. He definitively debunks the claim Sultana was sabotaged. He also pinpoints actual casualty totals, correcting exaggerated claims of deaths.
Despite Salecker's attention to detail and obsessive pursuit of the facts, this is not a dry book. It reads like a cross between an adventure novel and a mystery. He captures the human drama behind the tragedy. Whether this is your first introduction to the Sultana disaster or you have followed it for years, this book is worth reading. It may not be the last word on the story, but it is an important one.
Mark Lardas, an engineer, freelance writer, historian, and model-maker, lives in League City, TX. His website is marklardas.com. This review appeared in a different form in American Essence magazine and Epoch Times.