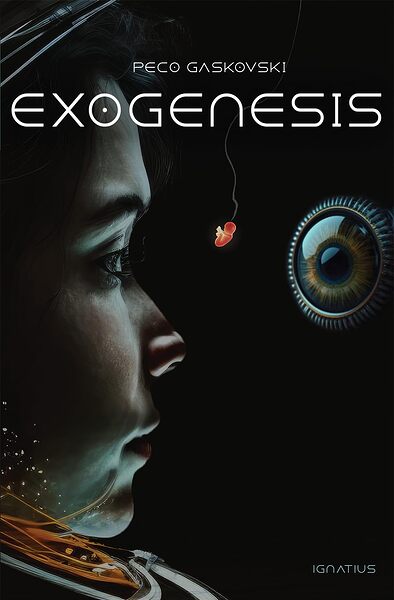 Looking for a good read? Here is a recommendation. I have an unusual approach to reviewing books. I review books I feel merit a review. Each review is an opportunity to recommend a book. If I do not think a book is worth reading, I find another book to review. You do not have to agree with everything every author has written (I do not), but the fiction I review is entertaining (and often thought-provoking) and the non-fiction contain ideas worth reading.
Book Review
A Soulless, Dystopian Future
Reviewed by Mark Lardas
August 13, 2023
"Exogenesis," by Peco Gaskovski, Ignatius Press, 2023, 331 pages, $18.95 (paperback), $18.95 (ebook)
Nearly 250 years into the future the United States has collapsed and been replaced by Lantua, a thousand-mile long city state what was the United States's urban east of the. Maelin Kivela is a counselor for Lantua's Population Management Department.
As "Exogenesis," by Peco Gaskovski opens, Maelin is on her annual mission to protocol (as PMD terms sterilization) Benedites youth. To her mind, they are religious fanatics, whose religion demands they ignore the PMD's strict population controls.
The Benedites are rural, living apart from Lantua. Christians, they worship following a version of the Bible banned by Lantua, which permits only an eviscerated version consistent with Lantua's material secularism.
In Lantua material needs are paid for through conformity. Its social behavior system rewards those who conform best. Its echelon system provides greater and greater rewards to those viewed as most valuable, including, of course, its leaders, now a self-perpetuating upper caste.
Babies are produced through "bag births," using artificial wombs. Body births are forbidden. Parents are caretakers for their children, on loan from the state. Behavior is enforced by airborne drones patrolling the skies and constant surveillance. Violators are subject to brain modification. Religion is banned, only a feel-good spiritualism is encouraged.
In Lantua residents are limited to one or two children. The Christian Benedites follow the Bible's guidance to be fruitful and multiply instead. Lantua cannot stop this. Instead they limit Benedite population by sterilizing all but one child in each family. The Benedites resent this.
Maelin leads one team that goes out annually to conduct protocolling and entice Benedites to abandon their community and move to Lantua, She has been doing this for nearly twenty years, without incident.
This year everything goes wrong. One of the teens being protocolled records the sterilization, which goes out on the dark net. Maelin and her team get ambushed by Benedite rebels as the team returns to Lantua. One of the team's members is killed. These put Maelin under a cloud with her superiors. She did nothing wrong. Just attract undesirable attention.
Then a secret from her past emerges, one wrapped up with the ambush, threatening to cost everything she has worked for. For the first time she has to question everything she has assumed is right about life in Lantua.
"Exogenesis" is a powerful novel. Gaskovski's work will likely make readers uncomfortable. It affirms the importance of liberty and God in society.
Mark Lardas, an engineer, freelance writer, historian, and model-maker, lives in League City. His website is marklardas.com.