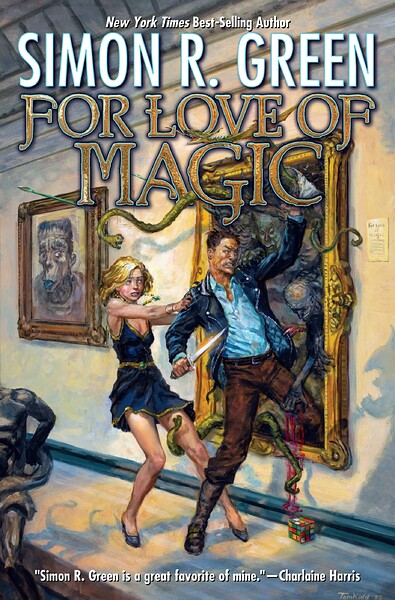 Looking for a good read? Here is a recommendation. I have an unusual approach to reviewing books. I review books I feel merit a review. Each review is an opportunity to recommend a book. If I do not think a book is worth reading, I find another book to review. You do not have to agree with everything every author has written (I do not), but the fiction I review is entertaining (and often thought-provoking) and the non-fiction contain ideas worth reading.
Book Review
A Quest to Restore Magic
Reviewed by Mark Lardas
May 21, 2023
"For Love of Magic," by Simon R. Green, Baen Books, 2023, 240 pages, $25.00 (Hardcover), $9.99 (Ebook)
Jack Damian is the Outsider. He protects the world from supernatural evil. His job makes him a real outsider. He walks alone and unattached to anyone or any organization. Then he meets Amanda Fielding.
"For Love of Magic," a fantasy novel by Simon R. Green, opens with Jack Damian called to London's Tate Gallery by Britain's secret Department of Uncanny Inquiries. His services are required.
Twenty-two people disappeared during the premier viewing of a new painting, "The Faerie War." It is a newly discovered work by a brilliant, criminally insane artist of the previous century. Although it is a world of science, magic keeps leaking in around the edges and through the cracks. Jack seals those cracks.
This proves the case this time. The painting swallowed the twenty-two missing gallery visitors. Jack rescues them, extracting them from the painting. The painting strikes back. Except for timely intervention by the gallery's art expert, Amanda Fielding, he could have been trapped by it.
She is extremely attractive and Jack goes out for drinks with her afterward. It turns out she has an agenda. She wishes to restore balance between science and magic and hopes to recruit Jack's assistance.
Initially reluctant, Jack decides to join forces with Amanda after being threatened by a Man In Black, an enforcer for those suppressing magic and discovering the Department of Uncanny Inquiries has its own secrets. It is taking the world in a direction Jack does not want to see it go. Miriam Patterson, the department's second-in-command and future director leaves Jack uneasy.
To learn why science has displaced magic, Jack accompanies Amanda on a series of quests through time and space. The answers to his questions are scattered in several places. Jack and Amanda visit Boadicea's Britain, King Arthur's Camelot, Robin Hood's Sherwood Forest and Frankenstein's manor house.
At each place he gets some of the answers needed to solve the puzzle, right wrongs, and make friends, allies and enemies. It culminates in a climactic battle between the forces of good and evil. The fate of the world, of course, hangs in the balance.
"For Love of Magic" is a delightful book. Green mixes romance, epic fantasy, history and myth with a deft hand. He tells a fast-paced story that engages the reader from the first page to the last. The ending is such that you end up wishing it could happen in the real world.
Mark Lardas, an engineer, freelance writer, historian, and model-maker, lives in League City. His website is marklardas.com.