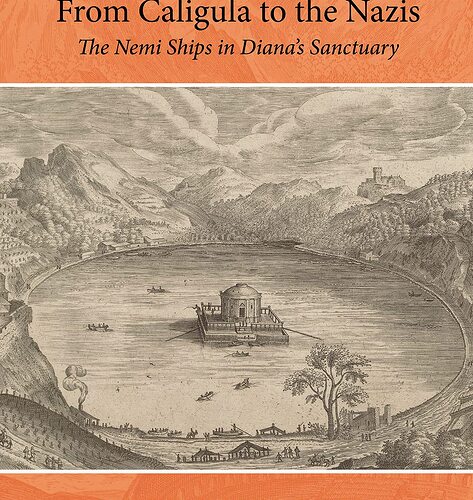 Looking for a good read? Here is a recommendation. I have an unusual approach to reviewing books. I review books I feel merit a review. Each review is an opportunity to recommend a book. If I do not think a book is worth reading, I find another book to review. You do not have to agree with everything every author has written (I do not), but the fiction I review is entertaining (and often thought-provoking) and the non-fiction contain ideas worth reading.
Book Review
Norm-Breaking Ancient Ships
Reviewed by Mark Lardas
October 1, 2023
"From Caligula to the Nazis: The Nemi Ships in Diana's Sanctuary," by John M. McManamon SJ, Texas A&M University Press, 2023, 248 pages, $65.00 (Hardcover)
During his reign, the Emperor Caligula built two massive barges on Lake Nemi. Almost immediately after his assassination they sank. The boats fascinated posterity. Starting in the 15th century efforts began to refloat them. Four centuries later Mussolini succeeded. A museum by the lake displayed them. In 1944 the retreating Nazis burned museum and ships.
"From Caligula to the Nazis: The Nemi Ships in Diana's Sanctuary," by John M. McManamon SJ tells the full story of these ships, from their creation in Early Imperial Rome to their destruction in World War II.
He opens with the destruction of ships in May 1944. McManamon makes it clear the Germans deliberately set fire to the museum containing the ships, despite postwar denials. This act of historical vandalism was triggered by German pique at their former Italian allies. It served no military purpose.
McManamon then returns to the beginning, spending a chapter discussing the origins of the ships and the significance of their location. Nemi, especially Diana's Grove, was a sacred place. Caligula's construction of two immense party barges was a thumb in the eye of conventional Roman morality. McManamon explains why. That the barges sank after Caligula's death was predictable.
From there he goes through four centuries of attempts to raise the barges, starting in the mid-1400s. Descriptions of the boats had come down from Roman times in literary references. The fragmentary nature of the references tantalized scholars and nobility (often the same men) in pre-Renaissance and Renaissance Rome.
McManamon describes the various players and their efforts to raise the ships. By the 15th Century much of what was believed about the ships was wrong. Their construction was attributed to Trajan; the sacrilegious nature of their construction forgotten. Yet rumors of their fabulous nature fed interest in raising them.
McManamon shows why salvage technology was important. Early efforts at salvage, limited to free-diving and trawling damaged the artifacts rather than recovering them. It awaited the march of technology before 20th century efforts finally raised the ships. The final, successful effort required a massive government project.
"From Caligula to the Nazis" is a fascinating book. It is densely written, yet the story McManamon relates is captivating. It offers insights into several areas: Roman history and religion, marine archeology, and naval architecture. It is also a reminder that human ingenuity and curiosity are timeless. Both are present throughout the period covered by this book.
Mark Lardas, an engineer, freelance writer, historian, and model-maker, lives in League City. His website is marklardas.com.