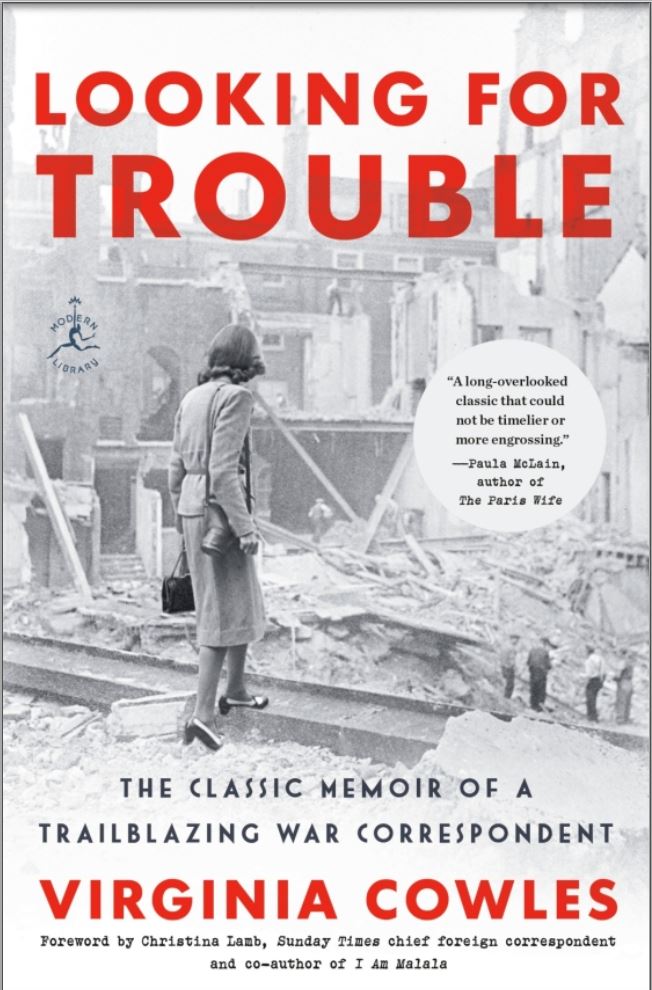 Looking for a good read? Here is a recommendation. I have an unusual approach to reviewing books. I review books I feel merit a review. Each review is an opportunity to recommend a book. If I do not think a book is worth reading, I find another book to review. You do not have to agree with everything every author has written (I do not), but the fiction I review is entertaining (and often thought-provoking) and the non-fiction contain ideas worth reading.
Book Review
A Socialite Turned War Correspondent
Reviewed by Mark Lardas
September 11, 2022
"Looking for Trouble: The Classic Memoir of a Trailblazing War Correspondent," by Virginia Cowles, Modern Library, 2022, 496 pages, $18.99 (paperback), $11.99 (ebook)
In 1935 socialite Virginia Coles was a society-girl columnist for toney magazines like Harper's Bazzar, writing about fashion and gossip. She traveled the world writing light pieces about the places visited. Then in Italy she encountered Mussolini and his fascists and her career took a different turn. She became a war correspondent.
"Looking for Trouble: The Classic Memoir of a Trailblazing War Correspondent," by Virginia Cowles tells that story. It is her memoirs during the period 1936 through 1941, collected from the columns she wrote for various US magazines over that period.
During that period she was everywhere. She covered the Spanish Civil War, her first attempt at being a war correspondent. She was the only correspondent to report from both sides of the conflict, visiting both Republican and Nationalist Spain during the struggle. It proved addictive. From there she went on to cover events in Europe as the continent slid into World War II.
She was a witness to the betrayal of Czechoslovakia. She spent time in England and Germany as the Czech crisis boiled up. She visited Czechoslovakia and the Sudetenland in anticipation of witnessing the start of a German invasion. Then she visited Munich during the run-up to the Munich Agreement where Britain and France gave the Sudetenland to Germany.
She visited Russia between the dissolution of Czechoslovakia and the invasion of Poland. She witnessed the beginning of World War II, going to Finland to cover the Winter War from the Finnish perspective. She was in France during its fall, and recounts her escape from Paris after the collapse of the French army. She then recounts her adventures in Britain after the fall of France, during the Battle of Britain and the Blitz.
The book was originally published late in 1941. It was a frank appeal to the United States to join the war against Hitler. Her experiences had turned her strongly anti-fascist and anti-communist. By then she was all-in for the British cause. (She would eventually marry an Englishman and settle in Britain.)
Cowles is gradually transformed from an almost-naïve socialite to a serious correspondent. Yet she never loses the personal touch, relating encounters with people as disparate as Mussolini, Churchill, Stalin, and Chamberlain, and people such as Unity Mitford. "Looking for Trouble" is a fascinating look at the world prior to and during the early years of World War II, and the people that shaped it.
Mark Lardas, an engineer, freelance writer, historian, and model-maker, lives in League City. His website is marklardas.com.