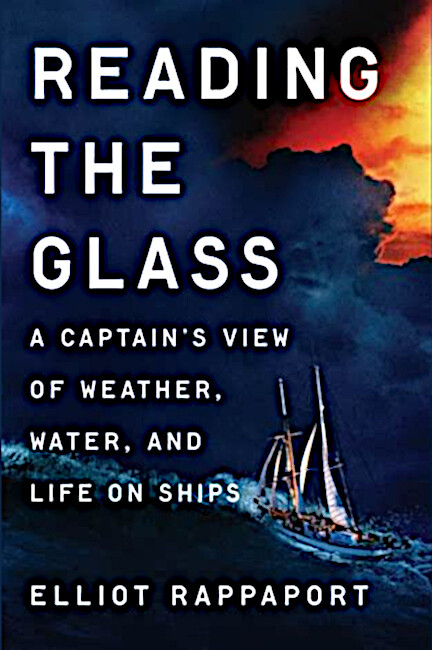 Looking for a good read? Here is a recommendation. I have an unusual approach to reviewing books. I review books I feel merit a review. Each review is an opportunity to recommend a book. If I do not think a book is worth reading, I find another book to review. You do not have to agree with everything every author has written (I do not), but the fiction I review is entertaining (and often thought-provoking) and the non-fiction contain ideas worth reading.
Book Review
Where Weather and the Sea Intersect
Reviewed by Mark Lardas
February 19, 2023
"Reading the Glass: A Captain's View of Weather, Water, and Life on Ships," by Elliot Rappaport, Dutton, 2023, 336 pages, $30.00 (Hardcover), $15.99 (ebook), $24.50 (audiobook)
Elliot Rappaport is a ship's captain, one of the few 21st century's professional sailing ship captains. He has commanded Corwith Creamer and Robert C. Seamans, ships which serve simultaneously as oceanographic research and sail training vessels. A lifetime at sea has led him to develop a fascination with weather.
"Reading the Glass: A Captain's View of Weather, Water, and Life on Ships," by Elliot Rappaport, explores that fascination. He draws upon thirty years' experience at sea to share everything he learned about weather. While it is about seafaring, sailing tall ships in modern times, it is also a look at and inside the science of meteorology and the world of meteorologists.
The book is a sea adventure. Rappaport takes readers with him on voyages to distant reaches of the world. He takes trips to Greenland, the South Pacific, the Mediterranean, and the waters around New Zealand and Australia. He reveals the two most important members of every crew on a long sea voyage are the engineer and the cook.
Within each chapter he explores different aspects of weather and different weather phenomena. It included an in-depth discussion about the featured phenomenon. Trips serve as a springboard to introduce the how and why of virtually every aspect of meteorology: how arctic weather works, how winds behave, what causes them and how they interact with water. There are discussions of clouds, what makes them form and what they portend. He of course, has a chapter on tropical systems.
He goes beyond talking about the weather. He takes readers inside the world of weather forecasting. There are long, fascinating explorations of the meteorological research and history. He shows how modern meteorologist work, and how their predecessors got them there. He also shows future trends in meteorology.
This book is not a polemic on anthropomorphic global warming. Rappaport believes the climate is changing. He shows it has always changed, with or without the intervention of humans. He looks at cause and effect rather than assigning blame. This dispassionate approach is refreshing and valuable. Readers learn about modern metrological science without the hysteria that often accompanies discussions about the weather.
"Reading the Glass" offers readers a painless education in modern meteorology. It is comprehensive without being overly technical. It is thoroughly entertaining, mixing adventure and humor with the facts it dispenses. This book will give readers a new appreciation for today's weather scientist have and their accomplishments.
Mark Lardas, an engineer, freelance writer, historian, and model-maker, lives in League City. His website is marklardas.com.