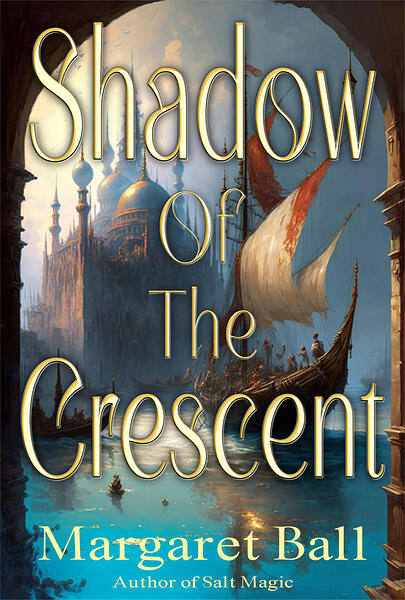 Looking for a good read? Here is a recommendation. I have an unusual approach to reviewing books. I review books I feel merit a review. Each review is an opportunity to recommend a book. If I do not think a book is worth reading, I find another book to review. You do not have to agree with everything every author has written (I do not), but the fiction I review is entertaining (and often thought-provoking) and the non-fiction contain ideas worth reading.
Book Review
Adventure and Magic in Renaissance Europe
Reviewed by Mark Lardas
April 23, 2023
"Shadow of the Crescent," by Margaret Ball, Galway Publishing, 2023, 305 pages, $11.99 (Paperback), $4.99 (Ebook)
Catarina Rinaldi was the wife of the ruler of San Florian, a city-state in 15th Century Italy. He was murdered by a rival faction in San Florian. She could become its new ruler – if she can put down the rebellion. Gian Bracciaforte leads a fifteen-man posta of mercenaries. A man with a past, he and his men are unemployed, and he is seeking employment.
In "Shadow of the Crescent," a historical fantasy novel by Margaret Ball, their lives will become entangled.
As the novel opens Caterina's husband is slain by townsmen irate at new taxes raised by him. Taken captive, she and her son become pawns in the game of determining San Florian's new ruler. That involves marrying Caterina and disposing of her son. Using audacity, fortune and her magical spells she triumphs over the Borghini family which has led the rebellion, leaving her in uneasy control of the town.
Gian Bracciaforte, trying to control his fractious and nearly broke band at an inn encounters two of the fleeing rebels. They are carrying Catarina's jewel. Enchanted by Caterina, they proclaim they are stolen and whose property they are. A fight ensues; Gian wins it and ends up in possession of the casket of jewels. His sense of luck tells him to restore the jewels. Gian suspects a city-state in turmoil might offer employment opportunity.
So it proves. Gian becomes captain of San Florian's guard. For safety and to ensure the boy gets training befit a future ruler of San Florian, Gian arranges for Caterina's son be fostered by Duke Federico da Montefeltro at Urbano.
It proves a wise move after the easily-defended San Florian becomes a target for Ottoman Sultan Mehmed II. The Ottomans have their own magician who, with the help of Caterina's cousin, takes the city state through treachery. Gian and Caterina find themselves on the run, to Venice and beyond. Enmeshed in Ottoman politics they must find a way to retake San Florian.
Marvelous historical fiction, Ball places readers in late-Renaissance Italy and the Near East. With the exception of magic that actually works and the fictional town of San Florian most of it is based on historical events. The magic fits naturally, using period sources for spell casting. The two protagonists are engaging, and supported by a cast of entertaining support characters.
"Shadow of the Crescent" offers adventure, romance, and sorcery. It works on multiple levels.
Mark Lardas, an engineer, freelance writer, historian, and model-maker, lives in League City. His website is marklardas.com.