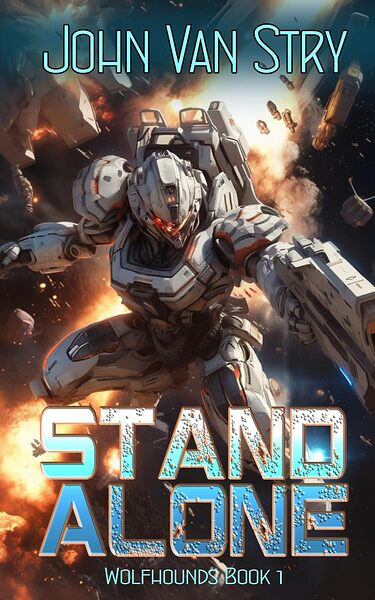 Looking for a good read? Here is a recommendation. I have an unusual approach to reviewing books. I review books I feel merit a review. Each review is an opportunity to recommend a book. If I do not think a book is worth reading, I find another book to review. You do not have to agree with everything every author has written (I do not), but the fiction I review is entertaining (and often thought-provoking) and the non-fiction contain ideas worth reading.
Book Review
A Bar Sinister Prince Emerges
Reviewed by Mark Lardas
November 5, 2023
"Stand Alone: Wolfhounds - Book One," by John Van Stry, Independently Published, 2023, 387 pages, $10.99 (paperback), $4.99 (e-book)
Chase Collis was a street rat in the Solarian Empire's capitol city. He is an orphan, a bastard. His mother died when he was twelve. He lived on the streets since then. At 20 he is a lieutenant in the city's biggest gang. To move up he needs cred from a stretch in an Imperial prison. The trial judge, his father, an Imperial prince, intervened. He sentenced Chase to ten years in the Imperial Navy instead.
"Stand Alone: Wolfhounds - Book One," by John Van Stry, opens with Chase arriving at his new unit following training: Wolfhound Base. The Wolfhounds are the Emperor's Own, the Imperial Guard unit, and about to ship out to conquer Rogen's World. Chase joins them in cold sleep.
They wake ten years later. A coup has overthrown the Emperor. The Democratic People's Republic of Solaria (as dictatorial a government as the name implies) rules. Wolfhound Base and the Wolfhounds were removed from the board by an unwitting dupe of the revolutionaries. Too late to save the Emperor, the Wolfhounds have a new mission: restore the Empire.
Initially, this is above Chase's pay grade. An apprentice mechanic, he helps maintain Wolfhound Base's systems. His goal is to get ahead in his new gang, the Wolfhounds, through demonstrating competence and diligence. The Wolfhounds need an Imperial, a potential heir to the throne to provide legitimacy. Artemis, the Base Artificial Intelligence, suggests Chase to play the prince. Wolfhound's leaders like the idea. Chase is the ideal fall guy.
Chase is soon acclaimed as the "lost heir." Artemis knows Chase is likely the real heir, since his father was a prince. No one else, even Chase, realizes it though. Chase reluctantly becomes the figurehead leader of the counter-rebellion.
Chase turns out every bit as tough and capable as his father, the Bastard Prince. First-rate space opera follows. The result is a fast-paced adventure novel, the first in a planned series of five.
"Stand Alone" feels like the offspring of Van Stry's novel "Summers End*"* and the four-book Empire of Man series written by David Weber and John Ringo. The central character is a former gang-banger. It marries that character to the theme of a disreputable prince put in the position of redeeming an empire he distained.
The plot of "Stand Alone" is not borrowed. It tells highly original story, with an entertaining and compelling plot. The end leaves you eagerly awaiting the next installment.
Mark Lardas, an engineer, freelance writer, historian, and model-maker, lives in League City. His website is marklardas.com.