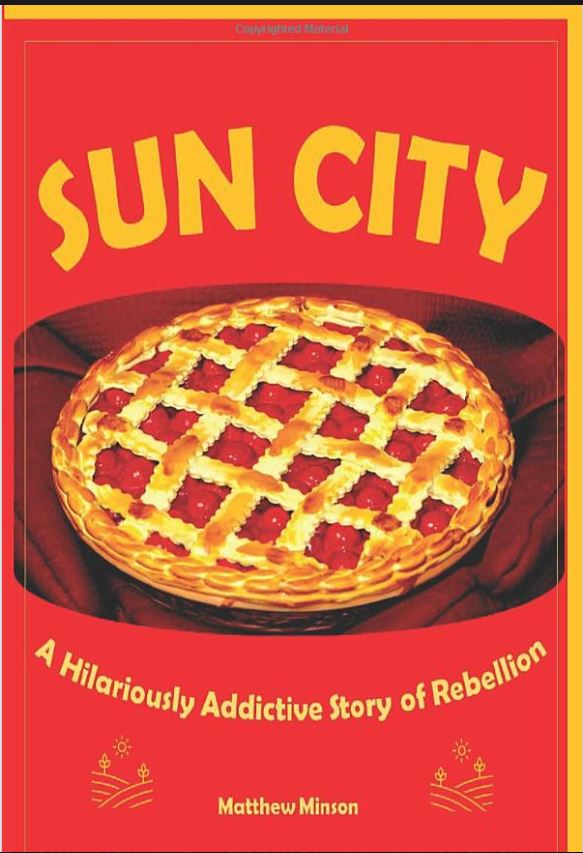 Looking for a good read? Here is a recommendation. I have an unusual approach to reviewing books. I review books I feel merit a review. Each review is an opportunity to recommend a book. If I do not think a book is worth reading, I find another book to review. You do not have to agree with everything every author has written (I do not), but the fiction I review is entertaining (and often thought-provoking) and the non-fiction contain ideas worth reading.
Book Review
Old Doesn't Mean Dead - Or Submissive
Reviewed by Mark Lardas
May 15, 2022
"Sun City: A Hilariously Addictive Story of Rebellion," by Matthew Minson, TLOED Inc., 2022, 305 pages, $14.95 (Paperback), $5.99 (Ebook)
Cal Yarborough was a farmer. A widower and old, he was living alone on his farm. While he was in the hospital, his children used their power-of-attorney to sell the farm and settle him at Sun City, a Central Texas retirement community.
"Sun City: A Hilariously Addictive Story of Rebellion," by Matthew Minson, opens with Yarborough's arrival at Sun City. His dismay at losing his farm is compounded when he learns he cannot even put in a vegetable garden. The community board has banned them.
Most of Sun City's residents resent the board. It is made up of retired flag officers, appointed by the developers. The board enjoys throwing their weight around committing petty tyrannies. The residents cannot replace the board because the corporate bylaws allow the corporation to appoint the board until 97 percent of the properties are sold. The Corporation plans to expand Sun City before that happens. Nor can residents sell without incurring a big loss. Buyers prefer new properties.
The only solution is to buy out the unsold properties and the surrounding land. That requires serious money.
A cadre of residents, including Cal, a former CIA agent turned counterculture warrior, a mob boss in hiding, a Wiccan priestess, and a salacious chef named Betty Crocker hatch a scheme to get that serious money. Wild Bill, the ex-CIA agent has seed for government-engineered pot, "borrowed" after a failed plan to overthrow Castro shut down. It produces super-pot. He now has someone to grow this crop, and someone to market it. They plan to use the money to buy out the corporation.
What follows is a wacky adventure in which the five begin a bootlegging scheme. Along the way they help a local restaurateur suffering from cancer, look out for the single mother who manages the community, and play matchmaker between the only two teens in the community (an awkward teenaged boy and the teenage granddaughter of Betty Crocker). They do all this while evading detection by the local law (a deputy sheriff with an unfortunate last name), outwitting the community board, and outfoxing the corrupt developers.
Sun City is not your typical novel about a retirement community. It is a fast-paced farce, which is not meant to be taken too seriously. It filled with literary Easter eggs, adding entertainment when they become apparent. It depicts a struggle between the individual freedom and social control relevant to today's America.
Mark Lardas, an engineer, freelance writer, historian, and model-maker, lives in League City. His website is marklardas.com .