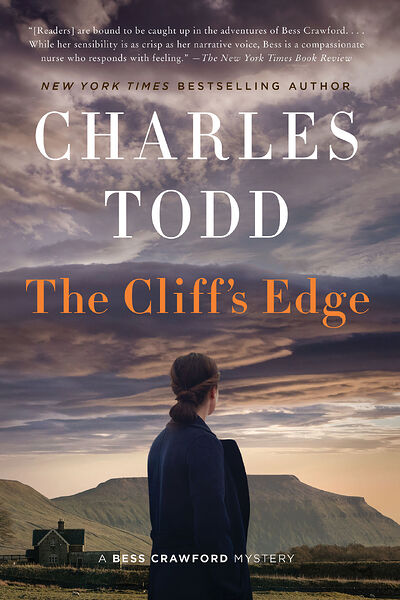 Looking for a good read? Here is a recommendation. I have an unusual approach to reviewing books. I review books I feel merit a review. Each review is an opportunity to recommend a book. If I do not think a book is worth reading, I find another book to review. You do not have to agree with everything every author has written (I do not), but the fiction I review is entertaining (and often thought-provoking) and the non-fiction contain ideas worth reading.
Book Review
A Murder in Yorkshire
Reviewed by Mark Lardas
April 16, 2023
"The Cliff's Edge," by Charles Todd, William Morrow, 2023, 320 pages, $30.00 (Hardcover), $14.99 (Ebook)
Bess Crawford was a nurse during World War I. She served in forward aid stations and survived the sinking of the hospital ship Britannic. The war is over. Discharged from her duties in Queen Alexandra's Nursing Service, she is at loose ends at her parents' home in Somerset. A letter from her cousin Melinda asks Bess to go to Yorkshire to nurse Lady Beatrice, an acquaintance of Melinda's.
"The Cliff's Edge," a mystery by Charles Todd, follows the result of Bess accepting the request. Lady Beatrice's surgery goes well, but then there are complications, but not with Lady Beatrice.
While recovering, Lady Beatrice gets a message. Gordon Neville, her godson, was injured in a fall near his home. He lives in at a remote estate in isolated Scarfdale. Lady Beatrice still cannot travel. Worried about Gordon's health, asks Beth to check on him. Since Lady Beatrice is well enough to manage without Bess and the message implies Gordon's injuries were severe, Bess goes.
Upon arrival Bess discovers Gordon was injured in a fall over a cliff. A second man, Frederick Caldwell, was killed in the fall. Worse, Gordon is suspected of killing Caldwell. Caldwell stole Gordon's fiancé immediately prior to World War I. A gentry-hating police inspector is investigating. His antipathy towards the Nevilles leads him to put the worst interpretation on everything associated with them.
Moreover the Nevilles, especially Gordon are resented in Scarfdale. It raised a local battalion during the War which was led by Gordon. Although he survived the war, the unit took heavy casualties during the Battle of the Somme. The families of the men killed blame Gordon. Outside his immediate family he has few defenders. Then more people end up dead. Everyone's suspicion of Gordon grows stronger.
Her knowledge of war injuries leads Beth to realize everything is not what it appears. Beth begins investigating, trying to separate the realities from the accusations. This puts her in peril, as the perpetrator attempts to remove her from the scene.
Her investigation finally turns up the truth, but not before revealing family skeletons and secrets. One unexpectedly involves Beth.
Charles Todd is the pen name for a mother-son team of mystery writers. Carolyn Watjen, the mother, died shortly before publication of "The Cliff's Edge." It is not the best book in the series, but may be the last. If you like the series it is worth reading.
Mark Lardas, an engineer, freelance writer, historian, and model-maker, lives in League City. His website is marklardas.com.