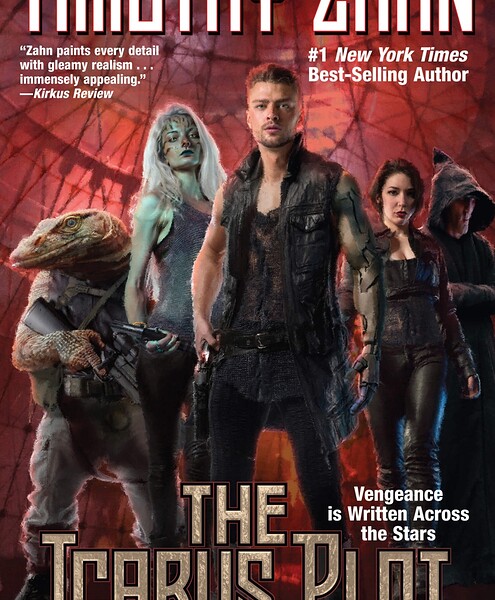 Looking for a good read? Here is a recommendation. I have an unusual approach to reviewing books. I review books I feel merit a review. Each review is an opportunity to recommend a book. If I do not think a book is worth reading, I find another book to review. You do not have to agree with everything every author has written (I do not), but the fiction I review is entertaining (and often thought-provoking) and the non-fiction contain ideas worth reading.
Book Review
Seeking Revenge Becomes Something Else
Reviewed by Mark Lardas
July 24, 2022
"The Icarus Plot," by Timothy Zahn, Baen Books, 2022, 352 pages, $25.00 (hardcover), $9.99 (Ebook)
Gregory Roarke is a Trailblazer. He and his Kadolian partner Selene conduct surveys of unexplored worlds. It does not pay as well as bounty hunting, the pair's previous career. Trailblazing covers the bills, barely. And that only if you include the money they make diverting samples from their hiring client for resale elsewhere and unskilled short term jobs they take between trailblazing contracts. It is safer than bounty hunting. That cost Roarke an arm before he quit.
"The Icarus Plot," by Timothy Zahn, follows Roarke and Selene. As the book opens they are one step away from getting their spaceship seized to cover debts. Things get worse when Roarke gets fired from his job as server cum bouncer at a bar. They stand to lose everything.
A reprieve comes through a thuggish sort named Geri. He and an associate named Freki hire Roarke and Selene to survey of Bonvere Seven, a Terran-type planet. They pay well, and Selene is able to identify a very marketable seed, samples of which they extract and hide from their employers. Only the whole point of hiring them for the survey was to catch the two in an illegal attempt to hide samples from the employer.
This is to force Roarke and Selene into one more bounty-hunting expedition. Geri and Freki know Roarke's and Selene's skill as bounty hunters. Geri and Freki want someone to hunt down a woman named Tera C, who they believe knows the whereabouts of Icarus a spaceship with a revolutionary star drive. It is the most valuable ship in the galaxy.
Roarke agrees, but not because he will lose his Trailblazing license. Rather, it is because Jordan McKell is captain of Icarus. McKell is the man whom Roarke believes cost him his arm and nearly killed Selene. If Tera C can lead him to Icarus, she will lead him to McKell and vengeance.
The path to Icarus proves convoluted and treacherous. Roarke finds himself battling his employers, an organized crime syndicate, and the Grumpfers (who dominate space travel and want Icarus to maintain their near-monopoly). The hunt reveals Roake is playing for higher stakes than mere vengeance.
"The Icarus Plot" is fast-paced, exciting science fiction. Zahn skillfully blends elements of space opera, noir crime and mystery, and espionage stories to create this book. The result is a story you will find hard to put down, and which delivers a satisfying climax.
Mark Lardas, an engineer, freelance writer, historian, and model-maker, lives in League City. His website is marklardas.com.