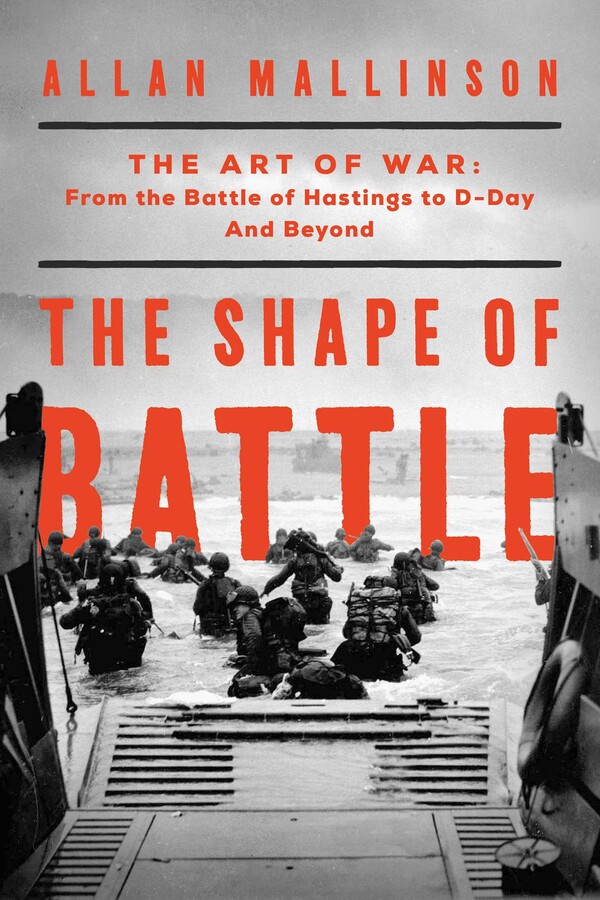 Looking for a good read? Here is a recommendation. I have an unusual approach to reviewing books. I review books I feel merit a review. Each review is an opportunity to recommend a book. If I do not think a book is worth reading, I find another book to review. You do not have to agree with everything every author has written (I do not), but the fiction I review is entertaining (and often thought-provoking) and the non-fiction contain ideas worth reading.
Book Review
War Through the Ages
Reviewed by Mark Lardas
October 2, 2022
"The Shape of Battle: The Art of War from the Battle of Hastings to D-Day and Beyond," by Allan Mallison, Pegasus Books, 2022, 400 pages, $29.95 (Hardcover), $19.99 (Ebook)
Allan Mallinson may be Britain's most important living military historian with several significant books on military history. He also wrote the Matthew Hervey novels. These followed the fictional career of nineteenth-century British cavalry officer, similar to Bernard Cornwall's Richard Sharpe series. He retired from the British Army in 2004 as a Brigadier.
"The Shape of Battle: The Art of War from the Battle of Hastings to D-Day and Beyond," by Allan Mallison examines six battles that shaped British – and world – history. All six battles focus on Britain's fighting forces. The six battles he examines are Hastings in 1066, Towton in 1461, Waterloo in 1815, Sword Beach in 1944, Imjin River in 1951, and Helmand in 2009.
All six are significant. Hastings was where William of Normandy defeated Harold of England to merge Normandy and Britain into what became modern England. Towton was the bloodiest battle of the War of the Roses, a nasty dynastic struggle that put the Tudor family on the British throne. Waterloo saw the final defeat of Napoleon, and the start of the Pax Britannica. Sword Beach was the key British contribution to the D-Day landing of June 6, 1944 in World War II. Imjin River was a Korean War battle where a British brigade stopped a Red Chinese horde from breaking UN lines during a major Chinese offensive. Operation Panther's Claw in Helmand Province in Afghanistan was one of Britain's principle contributions to the Global War on Terror.
Each of the battles is described in a stand-alone section. Mallison uses the same structure in each section. He spends a chapter or two describing the world in which the featured battle was fought. He explains the geopolitical situation, the technologies available to each side, and the forces present. Then he describes the battle as fought. Finally he analyzes the result of the battle, what the outcome was and the consequences resulting from that outcome.
Mallison proves a marvelous guide to all six battles. He describes each period in clear language. He has a knack for providing the background in terms a general audience can easily grasp. His descriptions of the actual battles are easily understood even by those unfamiliar with the tactics and weapons used.
"The Shape of Battle" provides a general reader everything they need to know to understand why each battle was important and why their lessons remain relevant today. It is informative and engaging.
Mark Lardas, an engineer, freelance writer, historian, and model-maker, lives in League City. His website is marklardas.com.