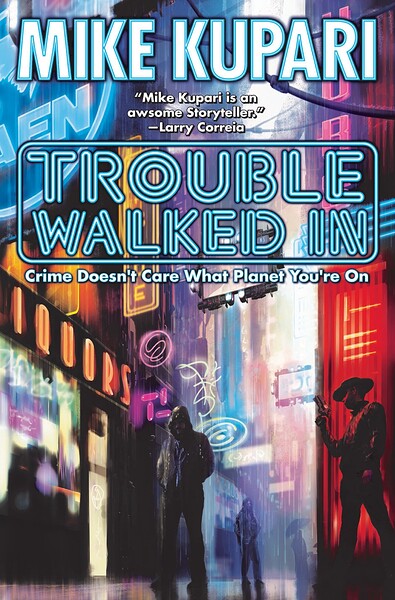 Looking for a good read? Here is a recommendation. I have an unusual approach to reviewing books. I review books I feel merit a review. Each review is an opportunity to recommend a book. If I do not think a book is worth reading, I find another book to review. You do not have to agree with everything every author has written (I do not), but the fiction I review is entertaining (and often thought-provoking) and the non-fiction contain ideas worth reading.
Book Review
A Noir Mystery Set in Space
Reviewed by Mark Lardas
August 21, 2022
"Trouble Walked In," by Mike Kupari, Baen, 2022, 304 pages, $16.00 (Trade Paperback), $8.99 (Ebook)
From the moment Dagny Blake entered Ezekiel "Easy" Novak's office he knew she was trouble. He took her job anyway. Her looks had nothing to do with it. Well, not much.
"Trouble Walked In," by Mike Kupari, recasts the classic 1940s hard-boiled detective story in a science fiction setting. Novak is a private detective in Delta City, the largest city on the planet of Nova Columbia. He has a one-investigator office. His only employee is his researcher-receptionist Lily.
When people came to him, they were usually desperate. Otherwise they went to a large agency, or used the investigative department of one of the large Nova Columbia corporations that largely run the place, This despite its titular representative government and membership in the Terran Confederation.
Dagny's case is particularly desperate. She hires Novak to find her sister, Cassandra Cassidy. If Dagny disappeared no one would have been surprised. Cassandra is the good sister, the steady reliable one. She was worried about something she had discovered at Ascension Planetary Holding Group, her employer. Ascension assures Dagny that Cassandra is fine, but will not allow Dagny to communicate with Cassandra.
Ascension is Nova Columbia's largest and most powerful corporation. No one goes up against Ascension unless they get more money than Dagny can pay, or unless they are crazy. Maybe because of that, Novak takes the case. It is a challenge. Lily helps Novak and Dagny out because Lily thinks Dagny is okay.
Trouble is what the investigation leads to. Novak soon discovers that Cassandra was doing some snooping of her own, investigating Ascension. What Cassandra found caused Ascension to "disappear" her. The corporation has found an ancient – and powerful – alien artifact. Novak's discoveries put him and Dagny in danger.
Worse, it appears Ascension has enough influence to corrupt Confederation officials on Nova Columbia, and is willing to do so to keep whatever it is finding from the artifact. Novak finds his contacts within Confederation intelligence getting framed for subversion.
"Trouble Walked In" is an homage to the hard-boiled detective story and the traditional spy story. Kupari tells a fast-paced story that keeps readers turning pages until they get to the end. He also slips in several classic science fiction tropes. There are alien secrets that could destroy mankind, mad scientists seeking immortality, and interplanetary espionage. None of it is overdone, though. Kupari delivers a fun story, with a little bit of everything.
Mark Lardas, an engineer, freelance writer, historian, and model-maker, lives in League City. His website is marklardas.com.