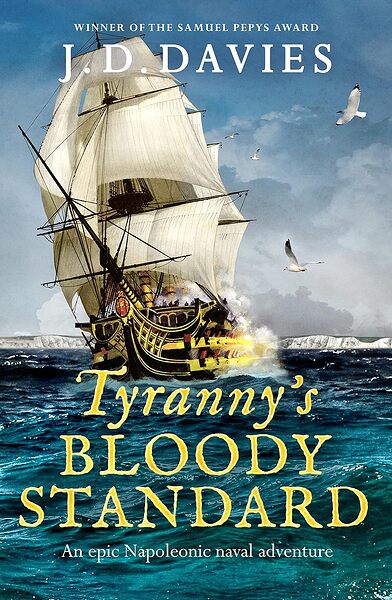 Looking for a good read? Here is a recommendation. I have an unusual approach to reviewing books. I review books I feel merit a review. Each review is an opportunity to recommend a book. If I do not think a book is worth reading, I find another book to review. You do not have to agree with everything every author has written (I do not), but the fiction I review is entertaining (and often thought-provoking) and the non-fiction contain ideas worth reading.
Book Review
War in the Western Mediterranean, 1794
Reviewed by Mark Lardas
November 5, 2023
"Tyranny's Bloody Standard," by J. D. Davies, Canelo Adventure, October, 2023 , 304 pages, $16.97 (paperback), $6.99 (e-book)
Philippe Kermorvant is an officer of the Marine Nationale, the navy of Revolutionary France. He is an aristocrat, but a French patriot first. Captured by the British he refuses parole, making a daring escape from a prison hulk to return to France.
"Tyranny's Bloody Standard," a historical novel by J. D. Davies, follows what happens next. Waiting follows Kermorvant's return to France, as he haunts the Ministry of Marine for a new assignment.
Despite support for the Revolution and his escape and return to France, the Reign of Terror is underway. All aristocrats are under suspicion. He is finally given command of a frigate, but in the Mediterranean fleet in Toulon rather than his desired posting in Brest. France is rebuilding its Mediterranean fleet after the British occupation of Toulon, and it needs experienced officers there.
Soon after he arrives, he is temporarily detached, sent on a diplomatic mission by an obscure French, Corsican-born, artillery general. In 1794 Corsica is in turmoil, having declared independence. Britain and France are contending for the island. Kermorvant's father was Verité, a philosopher beloved by a Corsican leader who offers to bring Corsica under French control. Kermorvant is seen as the perfect ambassador.
Treachery, murder, and revenge follow Kermorvant to Corsica and beyond. When Kermorvant returns to his frigate after the end of the mission he has to contend with enemies on every side. A disloyal officer with a questionable hold on reality seeks to denounce him as a traitor. He is hemmed in at sea by the ever-present British. A visit to Malta ends in swordfights and a ship-to-ship duel with a Neapolitan ship-of-the-line. Unfinished business draws him back to Corsica.
Novels about the Age of Fighting Sail between 1775 and 1815 abound. As with the novels of C. S. Forester and Patrick O'Brian, "Tyranny's Bloody Standard" is part of a series centered on a single officer. The second in the series, it differs from the Hornblower and Aubrey-Maturin novels. It features a French naval officer and using the Marine Nationale as the focus of the story rather than a British or Yankee protagonist.
Davies does an outstanding job of capturing the Marine Nationale and the contradictions faced by its officers. He also builds a tale around an actual historical event, the struggle for Corsica in 1794-96. He realistically blends in historical figures present in the Mediterranean at that time, including Napoleon Bonaparte and Horatio Nelson.
Mark Lardas, an engineer, freelance writer, historian, and model-maker, lives in League City. His website is marklardas.com.