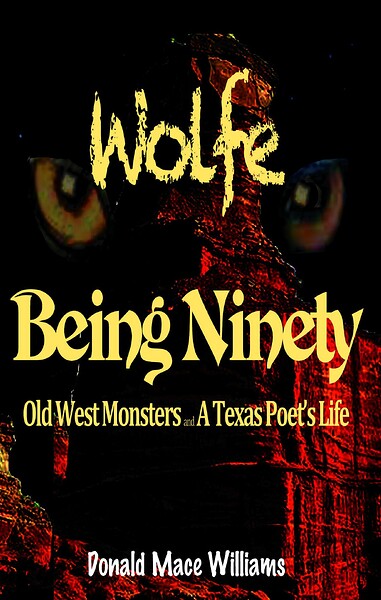 Looking for a good read? Here is a recommendation. I have an unusual approach to reviewing books. I review books I feel merit a review. Each review is an opportunity to recommend a book. If I do not think a book is worth reading, I find another book to review. You do not have to agree with everything every author has written (I do not), but the fiction I review is entertaining (and often thought-provoking) and the non-fiction contain ideas worth reading.
Book Review
A Texas Beowulf and Its Creator
Reviewed by Mark Lardas
May 14, 2023
"Wolfe and Being Ninety: Old West Monsters and A Texas Poet's Life," by Donald Mace Williams, Stoney Creek Publishing, 2023, 168 pages, $16.95 (paperback), $5.99 (ebook)
Donald Mace Williams is a Texas poet and former newspaperman. His best known poem is "Wolfe," which recasts Beowulf as a Western. He recently celebrated his ninetieth birthday.
"Wolfe and Being Ninety: Old West Monsters and A Texas Poet's Life," by Donald Mace Williams collects Williams's poem and a memoir of his life in one volume.
"Wolfe" updates "Beowulf." Set in a Texas Panhandle ranch during the 1890s, the ranch house replaces the king's hall, the ranch owner, the aged king, with ranch hands serving as thanes. Williams substitutes iambic quadrameter (commonly used in cowboy ballads) for Beowulf's Old English meter*.* He updates the Dark Ages character names with modern American equivalents. This campfire song transformation of Beowulf works remarkably well.
The poem takes up a fifth of the book. The rest contains Williams's memoirs, written during the Covid lockdown. As Williams freely admits, except in its longevity there is nothing particularly remarkable about his life. Yet his account of it makes fascinating reading.
He grew up during the Depression in a dirt-poor family. His father, a World War I veteran, was a dreamer and wanderer. Williams describes a peripatetic existence. The family frequently lived in tents or cabins his parents built. Yet he never wanted for anything, including an education. He describes a self-reliant life with his older brother and parents. His father eventually became a member of and an officer in the Civilian Conservation Corps.
He then describes life growing up during World War II and afterwards. Perhaps molded by his childhood, he led a wandering life. He became a newspaperman, serving by turns as a copyboy, reporter, columnist, editor and word coach at newspapers around the country. In between newspaper gigs he served in the US Army (at then-Camp Hood, in Texas), attempted to become a singer, worked odd jobs, and acquired a college education, up to a doctorate. This led to stints as a professor, teaching English an Journalism.
The resulting story is a fascinating exploration of America in the 20th century. Although much of his life was in Texas, he spent long stretches in California, the Pacific Northwest, the Rocky Mountains, the northern Plains States and the Southeast.
Williams asks why read the life of someone no one has heard of while discussing a book about a friend he never wrote. With "Wolfe and Being Ninety" he answers it. His descriptions of his life are like traveling America in a time machine.
Mark Lardas, an engineer, freelance writer, historian, and model-maker, lives in League City. His website is marklardas.com.