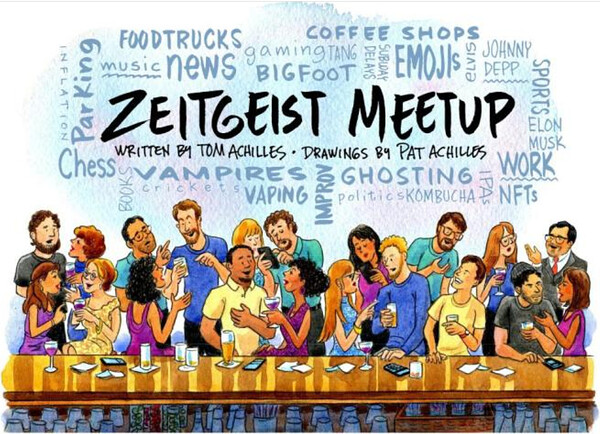 Looking for a good read? Here is a recommendation. I have an unusual approach to reviewing books. I review books I feel merit a review. Each review is an opportunity to recommend a book. If I do not think a book is worth reading, I find another book to review. You do not have to agree with everything every author has written (I do not), but the fiction I review is entertaining (and often thought-provoking) and the non-fiction contain ideas worth reading.
Book Review
Offering A Badly Needed Laugh
Reviewed by Mark Lardas
February 5, 2023
"Zeitgeist Meetup," by Tom Achilles and Pat Achilles, independently published, 2022, 79 pages, $12.95 (paperback)
Few projects are as satisfying to the creators as a book collaboration between a parent and an adult child, where each brings their own and different set of talents to the project.
"Zeitgeist Meetup," written by Tom Achilles and illustrated by Pat Achilles is an example. Son Tom Achilles is a stand-up comedian in New York City. Mother Pat Achilles is an artist and cartoonist whose cartoons have appeared in New Yorker magazine. Together they have produced a comical commentary on life in the big city today – and more.
This slim collection of black and white and color cartoons illustrates the foibles of today's urban society. It offers a sampler of their humor. There are cartoons presenting groan-inducing illustrated puns. There is commentary on urban life, some pungent and pointed, others refreshingly sweet. Occasionally modern life intrudes unexpectedly into legend or fantasy.
The book is a mix of individual cartoons and linked series. One series explores the possibilities of adhering to a "No News Tuesday," refraining from publishing or consuming any news on Tuesdays. A second pokes fun at the modern convenience store and supermarket. A third looks at with dealing with crime in the big city.
A brightly-colored set of cartoons presents Kool-Aid Men of different political persuasions. These cartoons are scattered throughout the book, appearing as unexpectedly as, well, Kool-Aid Man. It is as political as the book gets. Even then, it is less political commentary than a send-up of political foibles.
The authors reveal the scope of their ramblings on the book's cover, listing the themes of most of the cartoons appearing in the book. It offers wry examination of today's zeitgeist, taking a pin to pretentions and poking fun at those who take themselves too seriously.
Pat Achilles may be familiar to habituates of boards such as Ricochet, The Humble Sock, and Scanalyst by her online handle, Pencilvania.
"Zeitgeist Meetup," is refreshing fun. The book does not take itself too seriously, and encourages readers not to take themselves or life too seriously. If you need a laugh lift, this might be the book for you.
Mark Lardas, an engineer, freelance writer, historian, and model-maker, lives in League City. His website is marklardas.com.